Testament, along with Exodus were the founding fathers of the so-called Bay Area thrash movement of the mid-eighties (other bands in this league include Dark Angel, Heathen, Defiance, Vio-lence, Vengeance Rising, Forbidden, Death Angel, Deliverance, and others). Testament continued to play thrash metal through the 1990's despite trends that went against everything Testament did. They originally started out as "Legacy" with Steve Sousa on vocals. Steve split to join Exodus shortly before the band changed their name to Testament due to a legal battle over the name. Testament forged ahead with a big 'ol indian dude named Chuck. The rest is history. Chuck was recently (2001) diagnosed with cancer. Several "Bay Area" bands reformed to perform a show to raise money for Chuck Billy.

Testament-The Legacy (Atlantic) 1987
1."Over the Wall" (4:04)
2."The Haunting" (4:11)
3."Burnt Offerings" (5:03)
4."Raging Waters" (4:30)
5."Curse of the Legions of Death" (2:28)
6."First Strike is Deadly" (3:41)
7."Do or Die" (4:36)
8."Alone in the Dark" (4:01)
9."Apocalyptic City" (5:48)
A fast furios debut that I actually never owned until just recently. I guess I always feared that it would never match up to the awesome "The New Order" or "Practice What You Preach." Well to be honest, while the disc does thrash from beginning to end, it doesn't match up. "Legacy" was of course Testament's original name thus the album's title. This debut brought them instant success. (NOT!) What it did bring them was a cult following that remains today.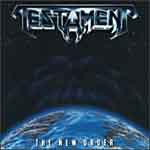 Testament-The New Order (Atlantic) 1988
1."Eerie Inhabitants" (5:06)
2."The New Order" (4:25)
3."Trial by Fire" (4:14)
4."Into the Pit" (2:46)
5."Hypnosis"--instrumental (2:04)
6."Disciples of the Watch" (5:05)
7."The Preacher" (3:37)
8."Nobody's Fault" (3:57)
9."A Day of Reckoning" (4:00)
10."Musical Death (A Dirge)"-instrumental (4:05)
This was actually the first Testament disc I ever heard. I heard "Trial by Fire" on some metal radio show. I thought it was the coolest song in the world. Of course once I found out that Testament covered Aerosmith's "Nobody's Fault" I had to own it. The entire album shreds, from beginning to end.

Testament-Practice What You Preach (Megaforce) 1989
1."Practice What You Preach" (4:54)
2."Perilous Nation" (5:50)
3."Envy Life" (4:16)
4."Time is Coming" (5:26)
5."Blessed in Contempt" (4:12)
6."Greenhouse Effect" (4:52)
7."Sins of Omission" (5:00)
8."The Ballad" (6:09)
9."Nightmare (Coming Back to You)" (2:20)
10."Confusion Fusion"-instrumental (3:07)
A groundbreaking thrash album proving Testament to be one of the best "Second Wave of Thrash Metal" bands. No less than three of these songs were covered on the "Jump in the Pit" tribute. Every song on here is great, however! The sound is a bit more technical than the past two albums. My personal favorits are "Practice What You Preach," "Perilous Nation," and "Sins of Omission." ("Practice" was covered by German thrashers Blackend, "Sins" by American speed metallers Ultimatum.) Oh, and this album sports one of the coolest covers.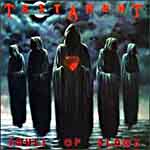 Testament-Souls of Black (Atlantic) 1990
1."Beginning of the End"-instrumental (0:36)
2."Face in the Sky" (3:53)
3."Falling Fast" (4:05)
4."Souls of Black" (3:22)
5."Absence of Light" (3:55)
6."Love to Hate" (3:40)
7."Malpractice" (4:43)
8."One Man's Fate" (4:49)
9."The Legacy" (5:30)
10."Seven Days of May" (4:41)
More standard thrash than their last two albums. I read somewhere where Chuck Billy said that this album was rushed to get out so that they could go on tour with Anthrax and Slayer. (at least I think that's who it was.) Anyhow, "The Legacy" is a cool progressive, acoustic romp. "Souls of Black" is another stand out cut. The rest of the album is ok, but not up to the standards Testament set for themselves with "Practive What You Preach" and "The New Order." Cool cover, however.
Testament-The Ritual (Atlantic) 1992
1."Signs of Chaos"-instrumental (0:30)
2."Electric Crown" (5:46)
3."So Many Lies" (6:04)
4."Let Go of My World" (3:45)
5."The Ritual" (7:34)
6."Deadline" (4:47)
7."As the Seasons Grey" (6:16)
8."Agony" (4:07)
9."The Sermon" (4:48)
10."Return to Serenity" (6:25)
11."Troubled Dreams" (5:14)
Although this is a great disc, it is the least listened to in my Testament collection. I'm not sure why as songs like "Electric Crown" and the ballad-ish title track are outstanding. While "The Ritual" does have a slightly more mainstream production, the song writing is still classic Testament. Some people said this was Testament's attempt at the fame and fortune that Metallica was experienceing at the time. If it was, it didn't work!

Testament-Return to the Apocalyptic City (Atlantic) 1993
1."Over the Wall"-live (5:28)
2."So Many Lies"-live (6:13)
3."The Haunting"-live (4:28)
4."Disciples of the Watch"-live (4:38)
5."Reign of Terror" -studio (4:48)
6."Return to Serenity" -studio (4:30)
"Return to the Apocalyptic City" is very cool ep, although a bit short in my opinion. The live material is heavy and raw, but still as tight as their studio material. Paul Bostaph (ex-Forbidden) is the drummer on this one. (Man, from this point on, Testament will become like Spinal Tap with their drummers.) The two studio songs are outstanding, but the BALLAD, "Return to Serenity" is a real standout. I have been told that "Reign of Terror" was released as a b-side to the "Trial by Fire" single, which I use to have on cassette. Can't remember that song being on there. Anyhow, the song is from their Legacy days when Steve Souza (Exodus) was the vocalist, however, this version features Chuck Billy. The album cover kind of sucks as it gives the album a bootleg look.

Testament-Low (Atlantic) 1994
1."Low" (3:33)
2."Legions (in Hiding)" (4:17)
3."Hail Mary" (3:32)
4."Trail of Tears" (6:06)
5."Shades of War" (4:44)
6."P.C." (2:50)
7."Dog Faced Gods" (4:02)
8."All I Could Bleed" (3:37)
9."Urotsukidoji"-instrumental (3:40)
10."Chasing Fear" (4:56)
11."Ride" (3:16)
12."Last Call" (2:41)
HEAVY!!! That is the only way to descibe this speed metal masterwork. I love this disc. Of course I do get sick of hearing thrash bands complain about religion, and Christianity in particular, a subject that Testament seems to dwell on quite a bit. Alex Skolnick quit at this point and was replaced by Obituary's guitarist. (Skolnick went on to play with Savatage for a short time) John Tempesta of Exodus fame filled in for the drum position for the recording. In any case, together they created a wonderful speed metal classic with hints of death metal creeping into the mix. Even Chuck's vocals took on a more growly style for a few songs. I actually think this improved the bands sound as it gave them a better mix and the album didn't get boring.

Testament-Live at the Fillmore (Spitfire) 1995
1."The Preacher" (4:20)
2."Alone in the Dark" (4:36)
3."Burnt Offerings" (5:14)
4."A Dirge"--instrumental (2:03)
5."Eerie Inhabitants" (3:50)
6."The New Order" (4:31)
7."Low" (3:13)
8."Urotsukidoji"-instrumental (3:47)
9."Into the Pit" (2:54)
10."Souls of Black" (3:39)
11."Practice What You Preach" (4:59)
12."Apocalyptic City" (5:58)
13."Hail Mary" (3:45)
14."Dog Faced Gods" (4:46)
15."Return to Serenity"-acoustic version (5:55)
16."The Legacy"-acoustic version (5:16)
17."Trail of Tears"-acoustic version (6:16)
A nice live album that is produced well. As thrash bands go, I hate most of their live albums. (for examples check out Death Angel or Nuclear Assault) For some reason most of them just sound crappy as compared to their sonically and musically tight studio albums. Testament's live offerings have both been stellar, however. Thankfully, this live album includes alot of early material. As an added bonus, Testament recorded three acoustic versions of three of their classic tunes. I read somewhere that they were recorded live in the studio. OK, so who could tell.

Testament-Demonic (Mayhem) 1997
1."Demonic Refusal" (5:21)
2."The Burning Times" (5:15)
3."Together as One" (4:17)
4."Jun-Jun" (3:43)
5."John Doe" (3:11)
6."Murky Waters" (3:00)
7."Hatred's Rise" (3:15)
8."Distorted Lives" (3:36)
9."New Eyes of Old" (3:00)
10."Ten Thousand Thrones" (4:37)
11."Nostrovia" (1:32)
Testament with ex-Dark Angel/Death drummer Gene Hoglan are outstanding and heavier than they have ever been. I must admit I like Chuck's voice better when he sings, rather than growls like every other death metal band on the earth. However, Chuck tends to mix up vocals styles a bit which makes it a lot more interesting than your run of the mill death band. The music is HEAVY! but a bit more technical and thrash-oriented than most death metal bands. Well, this is a great album, but soon will be blown out of the water by "The Gathering." Oh and one other thing, despite the deceiving album title, it seems that Testament may be warning against insipid Satanic dabling rather than supporting it.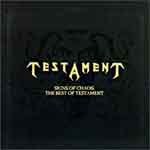 Testament-Signs of Chaos: The Best of Testament (Atlantic) 1997
1."Signs of Chaos"-instrumental (0:30)
2."Electric Crown" (5:31)
3."The New Order" (4:26)
4."Alone in the Dark" (4:05)
5."Dog Faced Gods" (4:05)
6."Demonic Refusal" (5:22)
7."The Ballad" (6:10)
8."Souls of Black" (3:24)
9."Trial by Fire" (4:17)
10."Low" (3:36)
11."Practice What You Preach" (4:56)
12."Over the Wall" (4:08)
13."The Legacy" (5:32)
14."Return to Serenity" (6:32)
15."Perilous Nation" (5:51)
16."Sails of Charon" (4:40)
17."Draw the Line" (2:49)
Notice it does not say "Greatest Hits" in the title because Testament has NEVER been concerned with making "hits." Testament have been crusaders for the Heavy Metal fight from the beginning. Since I have all but one of their albums, I would not have needed this disc except for the fact that the brilliant marketing execs at Atlantic decided to include two exclusive cover songs, "Sails of Charon" (originally by the Scorpions) and "Draw the Line" (another Aerosmith song. Testament knows their roots!)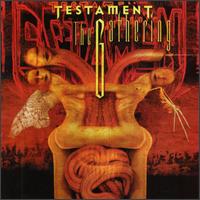 Testament-The Gathering (Spitfire) 1999
1. D.N.R. (3:34)
2. Down for Life (3:23)
3. Eyes of Wrath (5:27)
4. True Believer (3:36)
5. 3 Days in Darkness (4:42)
6. Legions of the Dead (2:37)
7. Careful What You Wish For (3:31)
8. Riding the Snake (4:14)
9. Allegiance (2:38)
10. Sewn Shut Eyes (4:15)
11. Fall of Sipledome (4:49)
Testament regroups once again retaining only original members Chuck Billy and Eric Peterson. James Murphy who has been with Testament on and off for a few years also makes an appearance on this disc. The band, however, becomes somewhat of a superstar group adding bassist Steve DiGiorgio (ex-Death) and drummer Dave Lombardo (Slayer/Grip Inc.). The Gathering continues in a similar direction as "Demonic" pushing the band in the heavier direction yet still retaining their status as a thrash band. This is MUCH heavier than their earlier discs however, and at times the band sound closer to death metal than the melodic thrash that they mastered in the early 90s. Unlike Metallica, who were at one time considered the same style as Testament, they have continued to earn the respect of their fans for staying true to the music style despite trends. "The Gathering" is THE BEST Testament album thus far, in my not so humble opinion. From beginning to end, the intensity never lets up. Dave Lomardo's drumming is so fast and tight, it's hard to believe any human being could play that fast. Who would have thought that Testament would still be making music this good so many years after thrash metal's heyday. Metal forges ahead!
Oh and on more thing, I recently read where Alex Skolnik criticised Testament for "going backwards" rather than moving forward with their music. Translated: "I have decided to be a glowing solo artist now and those guys have decided to stay true to themselves." Here is one review I read of his new band Attention Deficit, "For those who have lost track of Skolnick since his days with thrash metallists Testament, his playing now resembles more of King Crimson's Fripp and Belew... Attention Deficit is more about atmospheric songwriting than technical shredding." Why is it that some former metal musicians have to critisize those who stay true to the music. If you don't like metal any more, fine, move on and play your solo crap, but don't downplay your contribution to the greatest music in the world. It's something to be proud of, not something to mock.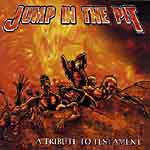 Testament are also the subjects of a tribute cd called "Jump in the Pit-A Tribute to Testament."