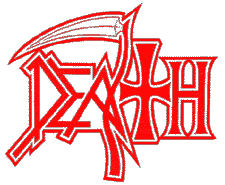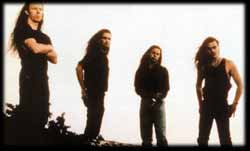 Death are considered one of the fathers of death metal, although some argue that Possessed or Venom had equal contributions. Death is the brainchild of Chuck Schuldiner who has been the only consistent member in the band and has written almost all their material. For some reason their first three discs struke me as somewhat generic at first, but over the years I have grown to appreciate them more. Death's later day offerings moved towards an outstanding progressive, thrash, death sound. Schuldiner disbanded the band in 1996, dissatisfied with his own vocals. Being a big fan of true metal, he wanted to blend Death's prgressive music with a more conventional metal vocalist. The Control Denied project was born, but was shelved after a time, with Chuck taking some ideas (and members) and reforming Death for the 1998 Sound Of Perseverence release. That proved to be the last album under that name, as the Control Denied name was revived, and is now the true continuation of Death. Shortly after it's release, Chuck was diagnosed with cancer. Several bands were doing shows in an attempt to raise money for his treatement and recovery.
Sadly on December 13 2001 at 4 PM EST Chuck Schuldiner lost the fight for his life and past into eternity. Needless to say, I will honor Chuck's memory, and the memory of the music he created.
"... pull the plug, let me pass away, pull the plug, I don't wanna live this way".
(Taken from the song "Pull the Plug" - LEPROSY album)

Death-Scream Bloody Gore (Combat) 1987
1. "Infernal Death" (2:54)
2. "Zombie Ritual" (4:35)
3. "Denial of Life" (3:37)
4. "Sacrificial" (3:43)
5. "Mutilation" (3:29)
6. "Regurgitated Guts" (3:47)
7. "Baptized in Blood" (4:31)
8. "Torn To Pieces" (3:38)
9. "Evil Dead" (3:02)
10. "Scream Bloody Gore" (4:34)
11. "Beyond the Unholy Grave" (3:08)
12. "Land of No Return" (2:59)
Considered to be one of the earliest death metal albums, but to be honest, I think this is just thrash taken up one notch past what bands like Kreator, Sepultura, and Destruction were doing. Of all the Death albums I own, this is probably my least favorite as it is really not up to the standards of "Individual Thought Patterns" or especially the masterpiece "Sound of Perseverance." The stereotypical blood, gore, and Satan lyrics are especially not to my liking. ("Regurgitated Guts"?!?!?) Chuck Schuldiner's lyrics have improved a hundred percent over the years. Still, for it's time this was a leader in the genre and is considered a classic today. I do dig the very well drawn cover art. This cd version also features 2 songs that were not on the original vinyl version. Actually, the song listing on the back tray and inside cover art don't even list the last two songs. Of course being on the Combat label, this one is out of print in the U.S. Much of the Combat label was re-released in Germany through Century Media. Before the reissues, this disc was selling for around $20 on eBay.
Death-Leprosy (Century Media) 1988
1. "Leprosy" (6:19)
2. "Born Dead" (3:25)
3. "Forgotten Past" (4:33)
4. "Left to Die" (4:35)
5. "Pull the Plug" (4:25)
6. "Open Casket" (4:53)
7. "Primitive Ways" (4:20)
8. "Choke on It" (5:54)
After sacking his entire band from the first album, you'd think that the sound on the band's second album would be completely different. Surprisingly it isn't. The production value has been taken up two notches, but the song writing and lyrics are still very much the same. Still obsessed with death, blood, guts and being as dark as possible, Chuck was going for extremes here, both in the music and the lyrics. Shock value I suppose. As with the first album, I'm not as impressed with this album as some of Death's later day discs. Still had to get this one to finish the collection before it disappeared into the land of "out of print discs."
Two tracks taken from this disc ("Open Casket" & "Choke on It") were recorded live for the "Ultimate Revenge 2" soundtrack.
Death-Spiritual Healing (Combat) 1990
1. "Living Monstrosity" (5:09)
2. "Altering the Future" (5:35)
3. "Defensive Personalities" (4:45)
4. "Within the Mind" (5:34)
5. "Spiritual Healing" (7:45)
6. "Low Life" (5:23)
7. "Genetic Reconstruction" (4:52)
8. "Killing Spree" (4:16)
I suppose this would be considered death metal, as a matter of fact many credit Death with inventing grindcore/death metal. This be true or not, "Spiritual Healing" is not as one-dimensional as many of their "followers." The songs tempos vary and the songs aren't without harmonic or melodic appeal. I think what is most important about this release is that it was the transition disc for Death, changing them from a band I would consider only average death metal, to a band that incorporates many elements of metal utilizing complex song structures, progressive metal arrangements but never forsaking the hook. What also makes this disc a necessity in my cd collection is that guitar shredder James Murphy plays guitar and has some writing credits. James Murphy has also played with Testament and Obituary.
Death-Human (Combat) 1991
1. "Flattening of Emotions" (4:28)
2. "Suicide Machine" (4:19)
3. "Together as One" (4:06)
4. "Secret Face" (4:36)
5. "Lack of Comprehension" (3:39)
6. "See Through Dreams" (4:26)
7. "Cosmic Sea" -instrumental (4:23)
8. "Vacant Planets" (3:48)
Chuck Schuldiner nearly disbanded Death before this album because, as rumor had it, he wanted to play more traditional metal, as opposed to "Death" metal. Instead, Chuck brought his power metal and progressive metal influences into Death and began to write bizarre, dissonant harmonized guitar lines and place them into a technical prog-metal setting, yet still managing to retain the aggression of past releases. Death were one of the few bands popular in death metal circles that used time changes and textures to create different moods over the course of an album. Several of these songs, especially the second half of the disc I wouldn't even consider to be death metal.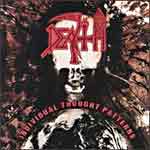 Death-Individual Thought Patterns (Relativity) 1993
1. "Overactive Imagination" (3:28)
2. "In Human Form" (3:55)
3. "Jealousy" (3:39)
4. "Trapped in a Corner" (4:11)
5. "Nothing Is Everything" (3:16)
6. "Mentally Blind" (4:45)
7. "Individual Thought Patterns" (4:00)
8. "Destiny" (4:04)
9. "Out of Touch" (4:19)
10. "Philosopher" (4:10)
Chuck recruits King Diamond guitarist Andy LaRocque and bassist Steve Digiorgio and together with Dark Angel drummer Glen Hoglan, Death creates a killer metal platter complete with complex song writing and an emphasis on guitar harmonies. Steve Digiorgio treats his instrument as a third guitar rather than as just the bottom end. At this point Death are no longer a run of the mill death metal band but are one of the most technically proficient thrash bands on the planet. Their lyrics are also much improved as they are more focused on personal expression and no longer focused on gore and violent death.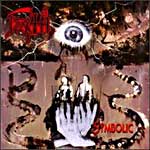 Death-Symbolic (Roadrunner) 1995

1. "Symbolic" (6:34)
2. "Zero Tolerance" (4:48)
3. "Empty Words" (6:23)
4. "Sacred Serenity" (4:27)
5. "1000 Eyes" (4:28)
6. "Without Judgement" (5:29)
7. "Crystal Mountain" (5:08)
8. "Misanthrope" (5:04)
9. "Perennial Quest" (8:23)
Not unlike "Individual Thought Patterns" Death showed no signs of letting up with this their sixth album. Once again, Chuck and Co. focus more on guitar harmonies and creating technically proficient and complex thrash songs. I read an interview with Chuck where he admitted he was more into bands like Judas Priest than death metal bands. It shows on these latter day releases. Anybody want a little death metal mixed in with their power metal, 'cause that's what Death is dishing out. Oh, almost forgot, the incredible Gene Hoglan (ex-Dark Angel) performs on this disc.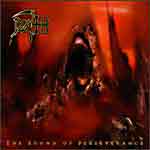 Death-The Sound of Perseverance (Nuclear Blast) 1998
1. "Scavenger of Human Sorrow" (6:54)
2. "Bite the Pain" (4:29)
3. "Spirit Crusher" (6:44)
4. "Story to Tell" (6:34)
5. "Flesh and the Power it Holds" ( 8:25)
6. "Voice of the Soul" -instrumental (3:42)
7. "To Forgive is to Suffer" (5:55)
8. "A Moment of Clarity" (7:22)
9. "Painkiller" (6:02)
Riff-o-rama! Geez, this is just one freaking phenomenal metal disc. Chuck Schuldiner gives the performance of his life deserving to be crowned the king of progressive thrash. New drummer Richard Christy needed to pull off some outrageous beats in order to out-shine Glenn Hoglan's (ex-Dark Angel) last stellar performance. Not only does he pull it off but proves himself a vital part of the sound contained on "Sound of Perseverance." Favorite tracks are "Bite the Pain," which contains some stellar bass work from Scott Clendenin, the acoustic instrumental "Voice of the Soul," and, of course, "Painkiller." Death's cover of Judas Priest's classic is absolutely mind blowing. Chuck definitely gave the vocal performance of his life on this song. I give "S.o.P"10 out of a possible 10.
Chuck had taken a long break from Death before releasing this disc as he was concentrating on his classic metal band Control Denied, which released and independent cd called "Fragile Art of Existence" which was eventually picked up by Nuclear Blast as well.