Commercial metal band that gained a following playing the clubs of L.A. during the heyday of hair metal. Ransom are lead by gorgeous and talented vocalist Lisa Faxom and guitar shredder Tony Ortiz.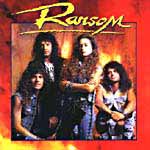 Ransom (Intense) 1991
1. "Lasting Love" (4:26)
2. "Rumors" (4:22)
3. "Memories of You"
4. "Fool that I Am" (4:26)
5. "Break Into Darkness" (3:01)
6. "Tonight" (4:17)
7. "Etched in Stone" (3:42)
8. "Fallen Angel" (5:07)
9. "Your Broken Heart" (3:56)
10 "I'll Never Leave You" (4:31)
11. "When I Die" (2:44)
I've never been much into metal bands with female vocalists. Most of them tended to hold onto the glammy metal image but their music was mostly just commercial pop rock crap consisting of more ballads than anything that rocked. Ransom is only slightly the exception. Ransom had been around for a while, playing the Hollywood club scene in the late 80's, when metal ruled the land. They had recorded a few demos with little reaction from labels, but finally hooked up with Intense in 1990. Ransom's debut rocks hard and is aimed at the more commercial metal crowd of the late 80's/early 90's (ie. Ratt, Stryper, Dokken, etc.). When this album first came out, I was less of a fan of this style than I am now. I must admit that I now consider this disc a Christian metal classic. Lisa Faxom has a great voice and guitarist Tony Ortiz is a shredder who could hold his own with some of the guitar greats. Ransom's lyrics are mature and grounded in Christianity. Favorite track is the truly metallic "album opener "Lasting Love." Overall a great heavy metal platter.
Ransom-Soul Asylum (Intense) 1992
1. "Soul Hymn" (4:31)
2. "Exit (Euthanasia)" (4:37)
3. "Windows of My Heart" (4:25)
4. "The Lies" (3:20)
5. "Prayer Asylum" (4:37)
6. "Only the Just Let Go" (4:14)
7. "Not that Kind of Girl" (4:20)
8. "Watching Over Me" (4:42)
9. "Higher Ground" (4:14)
10. "Sister Blue" (4:17)
Album number two, would also be the band's last as I assume they lost their contract with the flailing Intense/Frontline Records. Ransom's sophomore disc is a bit bluesier that their debut with a beefier production, thanks to producer Lanny Cordola. (Lanny also lends a hand in background vocals) The lyrics seem a bit more mature, as the band seems to bring a spirit of worship to their music that wasn't as present on the debut. Stryper's Oz Fox makes a guest appearance on this disc as well, playing acoustic guitar on the blues romp "Sister Blue." This song is totally different from the rest of the album, but is crammed full of hook. However, I'm not sure that I like this one better than the debut. I think I prefer the slightly more metallic sounds of the first disc a bit more. On both discs Lisa Faxom sounds amazing. (Can't believe it took me so many years to finally replace my crappy cassette copy of this album.)
Ransom also appear on:

California Metal Vol. 2