New Eden is a power metal band that is the brainchild of ex-Steel Prophet guitarist Horacio Colmenares. After their first disc, 3/5 of the band split and formed Destiny's End with ex-Helstar vocalist James Rivera.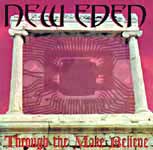 New Eden-Through the Make Believe (Sentinel Steel)1997
1. "Through the Make Believe" (1:36)
2. "Nightmare" (3:00)
3. "Captive Soul" (4:35)
4. "Sepuka" (4:34)
5. "Bullet Head" (2:26)
6. "Now That You Have Gone" (4:30)
7. "Unlock the Door" (5:45)
8. "Symptoms of Time" (5:06)
9. "Piracy" (3:44)
10."Sunshine" (4:05)
11."Empty Man" (6:35)
3/5 of this version of New Eden would soon become Destiny's End. "Through the Make Believe" is one great power/speed metal disc. Some of this stuff is stinking FAST! I've heard rumors that what the band did was tune down their guitars and play it slower to the tape, then they sped the whole thing up when they were done recording. Hmm, who cares how they did it, point is it sounds great and I've heard they've always been able to pull it off live. Vocalist Victor Vaca has a superb clean, high, almost operatic voice that suits the style of metal very well. Oh, and this disc has more hooks than a tackle box. We're talking REAL METAL here! Great lyrics to boot! Weak cover art, but with music this good, who cares! I hear this disc is now out of print and in high demand. I'm sure with music this good someone will re-issue it eventually.

New Eden-Obscure Master Plan (Nuclear Blast) 1999
1. "The Promise" (5:01)
2. "Evil Logic" (3:58)
3. "I Am" (2:57)
4. "Dance of the Dead" (4:53)
5. "Demons of Earth" (5:37)
6. "Epitaph" (5:48)
7. "Flicker of Faith" (6:58)
8. "Shades of You" (6:10)
9. "Sorrows" (3:39)
10."Land of Filth and Money" (5:03)
Horacio returns with a new band and a new album amidst rumors that the band has broken up. Horacio's liner notes state, "According to some people, New Eden is 'no more' so I guess this album is just a figment of our imagination." The music on "Obscure Master Plan" is very similar to that of "Through the Make Believe." Lots of double bass, speedy guitar playing and clean power metal vocals. I've listened to this disc repeatedly but this album took a bit longer to grow on me than "Through the Make Believe." I think the big difference is in the vocals and vocal melodies, which aren't quite as catchy as before. Not a bad power metal album, however.