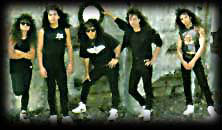 I saw these guys in 1987 at an obscure little club in Rochester, NY where they were on their "Remnants of War" tour opening for TT Quick. Singer James Rivera, a very short guy, had a very big stage presence that reminded me a bit of Ronnie James Dio. Most of the crowd was there to see this band and left before TT Quick ever hit the stage. What was cool was after the show we all sat around and shot the breeze with both bands. Some years later, 1999, I saw James again in Destiny's End opening for Iced Earth and Nevermore. His stage presence has not changed much in all those years. He was even still wearing those same leather, finger-less gloves too. In 2001 Helstar came to life again to perform at 2001's "Bang Your Head!!!" festivals at Houston/Texas and Balingen/Germany.

Helstar-Burning Star (Century Media) 1984
1."Burning Star" (3:50)
2."Towards the Unknown" (4:44)
3."Witch's Eye" (3:03)
4."Run with the Pack" (6:38)
5."Leather and Lust" (3:26)
6."Possession" (3:28)
7."Shadows of Iga" (4:59)
8."Dracula's Castle" (4:51)
I waited forever for these first two Helstar albums to be reissued on cd. I'm not even sure that this one ever came out on cd at all, except for the bootleg copies that were floating around. In any case, this is early American speed metal. "Burning Star" is not my favorite Helstar disc, but it does bring back some fond memories of metal days gone by. Better things are to come from "Bill Lionel" and Co. The reissue includes liner notes by James Rivera (aka Bill Lionel) himself.

Helstar-Remnants of War (Century Media) 1986
1. "Unidos Por Tristeza" -instrumental (0:47)
2. "Remnants of War" (3:46)
3. "Conquest" (3:48)
4. "Evil Reign" (4:34)
5. "Destroyer" (5:03)
6. "Suicidal Nightmare" (5:20)
7. "Dark Queen" (4:01)
8. "Face the Wicked One" (5:16)
9. "Angel of Death" (6:16)
We all expected these guys to take off after hearing the power metal onlsaught that was "Remnants of War." Of course, the dark, stereotypical lyrics probably held them back a bit. Too bad because singer James Rivera should have become one of the biggest legends of metal. James has one of the most powerful metal voices I have ever heard. His stage presence and even his stlye is reminiscent of Ronnie James Dio, although he certainly is not a carbon copy. Every time I have seen him perform, he commands the attention of the audience and certainly plays the role of metal frontman. My copy of "Remnants of War" is a reissue from Century Media in Germany but it was originally put out by Combat. Thanks to Century Media for finally finishing off my Helstar CD collection. However, why they put these things out in Germany and not in the U.S. is beyond me. It's not even available on Century Media's web page so I had to get a friend in Germany get it for me. Come on guys, there are metal fans in the U.S. too! At least make these imports available through your web page.

Helstar-A Distant Thunder (Metal Blade) 1988
1."The King is Dead" (3:59)
2."Bitter End" (4:16)
3."Abandon Ship" (6:50)
4."Tyrannicide" (5:31)
5."Scorcher" (5:42)
6."Genius of Insanity" (4:56)
7."(The) Whore of Babylon" (2:29)
8."Winds of War" (6:04)
9."He's a Woman, She's a Man" (2:51)
After parting ways with Combat Records, Helstar sign with Metal Blade in 1987 and release "A Distant Thunder." This cd is filled with classic American power metal topped with the soaring, searing vocals of James Rivera. This would be the last album the band would release before taking on a more aggressive speed metal style. "He's A Woman, She's a Man" is a Scorpions song.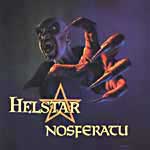 Helstar-Nosferatu (Metal Blade) 1989
1. "Rhapsody in Black" (:58)
2. "Baptized in Blood" (4:25)
3. "To Sleep, Per Chance to Scream" (4:37)
4. "Harker's Tale" (4:27)
5. "Perseverance & Desperation" -instrumental (4:17)
6. "The Curse Has Passed Away" (5:08)
7. "Benediciton" (5:57)
8. "Harsh Reality" (3:15)
9. "Swirling Eddies" (4:04)
10."Von Am Lebem Strum" (1:58)
11."Aieliaria and Everonn" (3:46)
I'm not really into the whole vampire thing, so some of the lyrics on this album don't interest me, however the music is a different story. I think "Nosferatu" blows away any and all Helstar's past efforts. The music is more aggressive yet still retains the dual guitar/Iron Maiden influences and the gothic overtones. James Rivera's vocals are more controlled than in the past and the high pitched screams are used more carefully. I would actually consider this speed metal as opposed to power metal. Of course, by 1989, speed metal was giving way to death metal, so the album didn't do so well and Helstar were dropped from Metal Blade (or so the rumor goes). Well we all know that the only good albums are those that sell well, right? N'Sync rules! NOT! Trends suck. Support real metal!

Helstar-Multiples of Black (Massacre) 1995
1. "No Second Chance (In the Angry City)" (3:11)
2. "Will I Catch It Again" (3:04)
3. "Lost to Be Found, Found to Be Lost" (4:20)
4. "When We Only Bleed" (3:09)
5. "Reality" (1:39)
6. "Good Day to Die" (3:37)
7. "Beyond the Realms of Death" (5:40)
8. "Save Time" (4:36)
9. "Black Silhouette Skies" (4:34)
10. "The Last Serenade" (1:09)
The last and most obscure Helstar cd. It's also one of my favorites. 'Multiples of Black' is speed metal/thrash with loads of cool hooks and those big, classic metal vocals of America's answer to Ronnie James Dio. The songwriting is catchy and aggressive, the way good metal should be. Their cover of Judas Priest's "Beyond the Realms of Death" is spectacular, although doesn't stray far from the original. The production on this disc is very clean but also very thin, which is unfortunate due to the fact that most of this material is some of the best the band had put out. At first, I didn't like the mix at all, but the more I listened, the more it grew on me. Anyhow, despite being released under the Helstar banner, the band at this point was actually James' new band Vigalante, with only himself and longtime bassist Jerry Abarca remaining from the original Helstar. Apparently original Helstar guitarist, founder and main song writer Larry Barragan was discouraged by the lack of response to the band's 1990 demo tapes, leaving James and Jerry to forge ahead by themselves. Only two songs from the original Vigalante demos made it onto this album ("Black Silhouette Skies" & "Lost to Be Found, Found to Be Lost"), although both were re-recorded.. Unfortunately for the band, grunge ruled the day in 1995 and this disc sold very poorly, even in Germany where the band had gained a large following so Helstar disbanded. Finding this disc was a bit of a chore as it was only released in Europe, as far as I know.
Helstar-Twas The Night of a Helish Xmas (Metal Blade) 2000
1. "Swirling Madness" (3:58)
2. "The King Is Dead" (4:11)
3. "Evil Reign" (4:35)
4. "Abandon Ship" (6:50)
5. "Baptized in Blood" (5:26)
6. "To Sleep, Per Chance to Scream" (4:11)
7. "Harker's Tale" (4:16)
8. "The Curse Has Passed Away" (5:13)
9. "Scorcher" (5:44)
10. "Angel of Deathe" (4:15)
"Twas The Night of a Helish Xmas" is a live "bootleg" recording of a Helstar show recorded at the Backstage Club, Houston, TX on December 25, 1989. I put off purchasing this disc forever because a friend warned me of the poor sound quality. Well, another friend at Metal Blade informed me that this was printed in very limited quantities and that they had no plans to press more, which means in a short time this disc will be selling on eBay for ridiculous amounts of money. Well, I am glad I was still able to purchase a copy. Overall the sound is a bit muffled, which is probably why Metal Blade had stickers printed for the front of the discs that state "Live Bootleg." This way they can get away with releasing a crappy sounding cd like this. Still, the performance is tight and James Rivera sounds great! I only wish the sound were a bit better.
Helstar-The James Rivera Legacy (Iron Glory) 2001
Helstar 1990 demo
1. "Sirens of the Sun" (4:43)
2. "Changeless Season" (4:03)
3. "Social Circle" (4:09)
4. "Scalpel and the Skin" (4:09)
Vigilante 1990 demo
5. "Sinister Diety" (4:56)
6. "Rage in the Wind" (5:54)
7. "Black Silhouette Skies" (5:59)
8. "Nightmare Extroordinaire" (4:05)
9. "Changeless Season" (4:36)
10. "Lost to Be Found, Found to Be Lost" (4:29)
I was pumped when I found out that there was going to be another Helstar release, yet at the same time, I was a bit worried that it would be another crappy compilation of poor demo and basement, boom box recordings. To my delight, the material on this disc, despite being demos, is very well recorded. From 1984 to 1989, Helstar with their three mainmen James Rivera, Larry Barragan, and Jerry Abarca released four classic US power metal platters. In 1990, Helstar recorded a self-titled four track demo tape of the same quality and calibur as their previous four albums in order to find a new record company, but did not succeed in obtaining a new record deal. This finally resulted in the departure of founder and main song writer Larry Barragan. James Rivera then attempted starting a new band with a similar sound under the name of VIGILANTE, although bassist Jerry Abarca was still in the band with James. That "new" band released a phenomenal six track tape around 1993, which, in the prime of grunge, didn't stir too much interest from record companies either, until in 1995 an album called "Multiples Of Black" was released, once again under the Helstar name. That album is still one of my favorites by the band, although the production was a bit thin. However, despite being a great speed metal album, the musically depressed mid-90's trends killed any chance for the album and so the album was forgotten, and the band split up. I still see fan pages on the net today that included a discography that is missing 'Multiples of Black.' 'The James Rivera Legacy' contains the two demo tapes from the early Nineties that remained unreleased until now. As the record label's web site says, "It's simply impossible to highlight any single tracks from "The James Rivera Legacy", because all songs are equally brilliant high-class US Metal." The packaging is average, although the cover art is poor, there are very few photos included and there is nothing in the way of a bio or write-up, which a disc containing old demo material really needs. The lyrics and a few b&w promo photos are included.