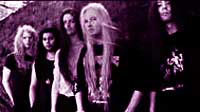 Nevermore was formed by Warrell Dane & Jim Sheppard, formerly of Sanctuary. Guitarist Jeff Loomis was also with Sanctuary for a short time. Contrary to popular opinion, I think Nevermore are better than Sanctuary. Their music is full of emotion yet heavier than a freight train full of steel. Guitarist Tim Calvert, who joined the band before recording "dreaming neon black," is formerly of Forbidden, but left the band before recording "Dead Heart in a Dead World."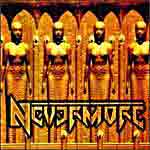 Nevermore-Nevermore (Century Media) 1995
1."What Tomorrow Knows" (5:11)
2."C.B.F." (6:02)
3."The Sanity Assassin" (6:21)
4."Garden of Gray" (4:48)
5."Sea of Possibilities" (4:18)
6."The Hurting Words" (6:17)
7."Timothy Leary" (5:12)
8."Godmoney" (4:23)
Probably the most Sanctuary-like cd in Nevermore's catalogue. This was actually the last Nevermore disc I purchased after buying everything through Dreaming Neon Black. This is probably the least listened to Nevermore cd in my collection as well as it doesn't quite hold up to the next three discs, in my opinion. May be if I had heard this one first., I would have thought it a classic, but "The Politics of Ecstacy" was actually the first album I had heard. My two favorite tracks are "What Tomorrow Knows" and the excellent "Garden of Gray."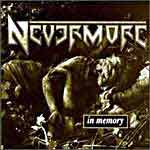 Nevermore-in memory (Century Media) 1996
1. "Optimist or Pessimist" (3:39)
2. "Matricide" (5:21)
3. I"n Memory" (7:05)
4. "Silent Edges/Double Dare" (4:42)
5. "The Sorrowed Man" (5:25)
Cool little ep digi-pack. "Optimist or Pessimist" is an incredible technical speed metal song! "Matricide" and "In Memory" are a Sanctuary-esq power metal songs. "Silent Hedges/Double Dare" is a cover of Bauhause (I think?!?) song. "The Sorrowed Man" is an eerie acoustic ballad. Nice little collector's item. Can't remember where I picked this one up, but I'm glad I did.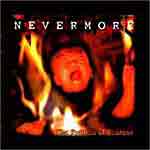 Nevermore-The Politics of Ecstacy (Century Media) 1996
1. "The Seven Tongues of God" (6:00)
2. "This Sacrament" (5:10)
3. "Next in Line" (5:34)
4. "Passenger" (5:27)
5. "The Politics of Ecstasy" (7:57)
6. "Lost" (4:15)
7. "The Tiananmen Man" (5:25)
8. "Precognition" -instrumental (1:38)
9. "42147 " (4:59)
10. "The Learning" (9:38)
11. "The Politics of Ecstacy" (1:12)
Leaner, meaner, heavier, and more technical than anything Sanctuary ever did. The song "The Seven Tongues of God" had me hooked immediately. "Politics" is melodic, progressive but heavy as any thrash band. Still can't understand why all these Sanctuary fans complain about this band. OK, Warrell Dane doesn't sing like he just inhaled helium, but he still has killer pipes. Besides, those high pitched shrieks still manage to make their way in here an there. I dunno, I just like it! "The Seven Tongues of God" is a KILLER song, matching, if not surpasing the intensity of Sanctuary's "Battle Angels." At 14:44 into the last song, "The Learning", after several minutes of silence, there is a reprise to "The Politics of Ecstacy" that is not listed on the track listing. The cover art on this disc is a bit disturbing.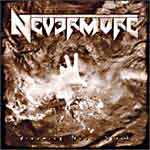 Nevermore-dreaming neon black (Century Media) 1999
1. "Ophidian" (:47)
2. "Beyond Within" (5:12)
3. "The Death of Passion" (4:11)
4. "I Am the Dog" (4:14)
5. "Dreaming Neon Black" (6:26)
6. "Deconstruction" (6:40)
7. "The Fault of the Flesh" (4:54)
8. "The Lotus Eaters" (4:26)
9. "Poison God Machine" (4:34)
10. "All Play Dead" (4:58)
11. "Cenotaph" (4:39)
12. "No More Will" (5:46)
13. "Forever" (4:11)
I love this disc. "Poison Godmachine" send chills down my spine and is so stinking heavy! "Forever" is downright haunting. The title track sticks in your head like super glue to your fingers. There are so many different emotions present on this disc, from the fast technical speed metal to the somber acoustic interludes and even dark gothic moments. "Dreaming Neon Black" is one of those discs that I just enjoy listening to from start to finish. It's a good thing that cd's don't wear out like records did, or this one would have been wasted since I have played it so much. Supposedly this is some sort of concept album that I guess is loosely based on a woman who has died in the water and is calling out to her lover to join her in death. Ex-Forbidden guitarist Tim Calvert joined Nevermore for the recording of this disc. I saw Nevermore on this tour and they were tight. Warrel Dane is a spaz on stage. At times I thought he was going into diabetic convulsions of something. I laugh every time I think of him singing "I feel so hollow" from "The Death of Passion."
Oh, for all those who spend time complaining and raking this band over the coals because Nevermore don't sound like old Sanctuary, get a life!

Nevermore-Dead Heart in a Dead World (Lmtd. Edition Box) (Century Media) 2000
1. "Narcosynthesis" (5:31)
2. "We Disintegrate" (5:12)
3. "Inside Four Walls" (4:40)
4. "Evolution 169" (5:51)
5. "The River Dragon Has Come" (5:06)
6. "The Heart Collector" (5:56)
7. "Engines of Hate" (4:43)
8. "The Sound of Silence" (5:13)
9. "Insignificant" (4:57)
10. "Believe in Nothing" (4:22)
11. "Dead Heart in a Dead World" (5:07)
BONUS TRACKS
12. "Love Bites" (5:22)
13. "All the Cowards Hide" (5:55)
14. "Chances Three" (3:02)
Being a cd junkie, I manage to get most of my cds relatively cheap, sometimes even free. However, there are few bands that I am willing to spend the suggested retail price for. Nevermore are one of those bands and they are worth every penny. I bought this disc the day it came out. As a matter of fact, I special ordered it long before it was released to make sure that there was a copy at the store waiting for me the day it was released. I purchased the limited edition box set that includes 3 bonus tracks as well as a poster, sticker, altered cover art, and a video track for "Next in Line." " Well, I can honestly say that in the first three days I have had this disc, it has already been spun at least six times, so I think I will get my $15 worth. The first listen, I had a smile on my face the entire time, and it sure did make rush hour go by a bit easier. "The Sound of Silence" was originally written by Simon & Garfunkel, but Nevermore's rendition sounds almost nothing like the original as the band has almost completely re-written the song, making it their own. "Love Bites" is. of course, the song they recorded for Hard Rock Magazine's Judas Priest Tribute. As I said on the tribute review, their rendition is absolutely fabulous.Nevermore are still on the top of my list of new metal bands. I do wonder sometimes though, if the lyrics really reflect Warrel Dane as a person, he must walk in a constant state of depression. Poor guy.
Nevermore-Believe in Nothing (Century Media) 2001
1. "Believe In Nothing" (edit)
2. "Sound of Silence" (5:13)
3. "All The Cowards Hide" (5:55)
4. "Love Bites" (5:22)
5. "Believe In Nothing" (4:22)
6. "Believe In Nothing" (CD-ROM Video)
This cd single offers casual fans some rare tracks that were formerly only available on the now out-of-print, special edition box set of Dead Heart in a Dead World. To the obsessed fan, as myself, there is nothing really new to this disc other than an edited version and video of the dark, acoustic ballad "Believe in Nothing." The two cover tracks on this disc are both stupendous. What I really admire about Nevermore's cover songs is that they attempt to make the songs sound like their own. Both Judas Priest's "Love Bites" and Simon and Garfunkel's "Sound of Silence" are prime examples of this. I have read several reviews that knock the Paul Simon song, but I think that it works well for the band. "Love Bites" has been previously released on the box set version of "Dead Heart" and was also released on Rock Hard's Judas Priest tribute. The one unreleased original "All the Cowards Hide" is a prime Nevermore cut but has also been released on the box set. So, why buy this single if all the material has seen release elsewhere? Because it's Nevermore!!! Do you need any other reason? (-: