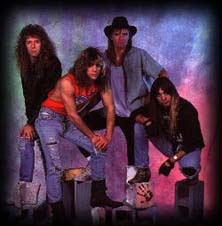 Barren Cross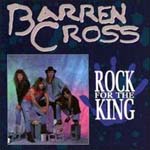 Barren Cross-Rock for the King (Medussa) 1986/1990
1.   "Dying Day" (3:29)
2.   "He Loves You" (4:38)
3.   "It's All Come True" (4:02)
4.   "Believe" (2:17)
5.   "Going Nowhere" (3:47)
6.   "Killer of the Unborn" -live (3:57)
7.   "Rock for the King" (5:05)
8.   "Give Your Life" (2:54)
9.   "Just a Touch" (3:27)
10. "Light the Flame" (5:25)
11. "Dead Lock" -live (4:20)
12. "Cultic Regimes" -live (2:47)
13. "He Loves You" -live (4:14)
14. "Living Dead" -live (7:11)
15. "Heaven or Nothing" -live (4:59)
Barren Cross' debut was influenced by classic heavy metal bands like Judas Priest, Queensryche and especially, Iron Maiden. The music is melodic yet heavy and contains some killer hooks. Vocalist Mike Lee has a strong voice, reminiscent of Bruce Dickinson. The lyrics on "Rock for the King" are definitely coming from a Christian perspective, not unlike contemporaries Stryper, but Barren Cross are MUCH heavier than Stryper. This Medussa re-issue contains the nine remastered studio tracks and six live bonus tracks. I like the original cover art better than this re-issue.
Barren Cross-Atomic Arena (Enigma) 1988
1. "Imaginary Music" (4:26)
2. "Killer of the Unborn" (3:28)
3. "In The Eye of the Fire" (4:27)
4. "Terrorist Child" (3:30)
5. "Close to the Edge" (4:55)
6. "Dead Lock" (4:18)
7. "Cultic Regimes" (2:48)
8. "Heaven or Nothing" (4:10)
9. "King of Kings" (3:30)
10. "Living Dead" (6:50)
I LOVE this album! It is one of the greatest Christian heavy metal albums to come out of the 80's. The band received some MTV and radio play over this one. The sound is a mixture of the heaviest Judas Priest and Iron Maiden. The lyrics are less Stryper-Rock for the Rock, type of lyrics and deal more with social issues like abortion ("Killer of the Unborn"), drug abuse ("Dead Lock"), destructive cults ("Cultic Regimes") and the responsibilty of the musician to their audience ("Imaginary Music"). The one exception would be "King of Kings," which is a heavy song about Jesus. Good production with a very big drum sound and some raw Mesa Boogie guitar tones.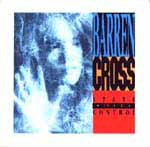 Barren Cross-State of Control (Enigma) 1989
1. "State of Control" (3:52)
2. "Out of Time" (4:09)
3. "Cryin' Over You" (4:53)
4. "A Face in the Dark" (3:55)
5. "The Stage of Intencity" (6:36)
6. "Hard Lies" (4:18)
7. "Inner Wars" (4:09)
8. "Love at Full Volume" (2:28)
9. "Bigotry Man (Who Are You)" (4:42)
10. "Two Thousand Years" (7:09)
11. "Your Love Gives" (3:46)
Following in the footsteps of "Atomic Arena" Barren Cross created another power metal monster. This time around however, there were a couple more commercial sounding songs like "Hard Lies," but a majority of the disc is just quality power metal. "Two Thousand Years" and "Stage of Intensity" are two of my favorite Barren Cross songs ever! Both are epic power metal numbers with some killer vocals and guitar work. "Stage of Intensity" starts off as an acoustic number before kicking into a full throttle rocker. "Two Thousand Years" is a heavy galluping number with a strong message about their faith. When this first came out I purchased the cassette that didn't include this song. It wasn't until later that I found out that there were three different track listings; one for Christian stores which included the ballad "You Love Gives" (but omits "Two Thousand Years"), one for secularstores which excluded the ballad for "Two Thousand Years." There is also a more common version that has "Escape in the Night" instead of "Your Love Gives."

Barren Cross-Hotter Than Hell Live! (Restless) 1990
1.   "Imaginary Music" (5:30)
2.   "Dying Day" (4:01)
3.   "Killers of the Unborn" (3:22)
4.   "Close to the Edge" (4:56)
5.   "Going Nowhere" (4:53)
6.   "Dead Lock" (4:11)
7.   "Opus to the Third Heaven" -instrumental (4:21)
8.   "King of Kings" (6:45)
9.   "In the Eye of the Fire" (6:52)
10. "Rock for the King" (5:25)
11. "Light the Flame" (7:40)
12. "Terrorist Child" (6:13)
13. "King Jesus and Blues Jam" (4:24)
14.  "Give Your Life" (5:06)
Pretty funny album title for a Christian metal band. Not a bad live offering, although it is quite obvious that Mike Lee is a bit strained after a long tour as his voice sometimes is struggling to reach the higher notes. This is one of those live discs that has not been doctored in the studio. I actually prefer when bands fix the mistakes, but I can understand the honesty factor as well.

Barren Cross-Rattle Your Cage (Rugged) 1994
1. "Rattle Your Cage" (4:19)
2 "Here I Am" (3:29)
3. "Unsuspecting" (3:57)
4. "No Time to Run" (3:35)
5. "Sick" (3:27)
6. "Somewhere Far Away" (2:52)
7. "Feed the Fire" (3:37)
8. "Let It Go Let It Ride" (4:49)
9. "Time For Love" (3:10)
10. "J.R.M." (3:52)
11. "Your Will" (3:47)
12. "Midnight Son" (5:19)
After a five year break, Barren Cross get back together and record three songs for Patriot/Rugged Records compilation "Premium Cuts" before releasing this full length studio album. As if all those years hadn't past, Barren Cross records a great follow-up to "State of Control." The music is still power metal but is even heavier than anything they had done in the past. Vocalist Mike Lee sounds a good as ever. Of course he was still singing with his other band Bare Bones during their down time.
On vinyl: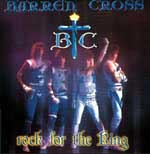 Barren Cross-Rock For the King (Star Song) original pressing 1986
Also appeared on: California Metal compilation and Premium Cuts compilation.