THRASH!!! Metal from good 'ol Pennsylvania USA!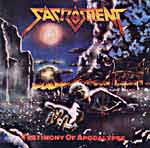 Sacrament-Testimony of Apocalypse (R.E.X.)
1. "Testimony of Apocalypse" (4:06)
2. "Slave to Sin" (3:32)
3. "Hellfire Denied" (3:04)
4. "Repentance" (3:10)
5. "Valley of Dry Bones" (3:12)
6. "Mortal Agony" (3:12)
7. "Conquer Death" (3:10)
8. "Absence of Fear" (4:01)
9. "The Risen" (3:58)
10. "Blood Bath" (4:07)
Sacrament are intense East Coast thrash that pushed the boundries a bit touching on death metal, not unlike Sacrifice or Death. Part of the reason for this was the coarse, raw voice of Mike Torone, who would soon be kicked out of the band. My favorite track is "Conquer Death."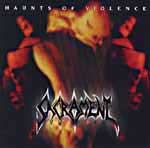 Sacrament-Haunts of Violence (R.E.X.)
1. "Haunts of Violence" (6:38)
2. "Carry the Wounded" (4:18)
3. "Destructive Heresies" (4:35)
4. "The Wicked Will Rot" (4:10)
5. "Supplication" (4:00)
6. "Souls in Torment" (6:52)
7. "Separate from Iniquity" (4:18)
8. "Seared Consciences" (4:30)
9. 'Under Threat of Death" (4:11)
10. "Portraits of Death" (5:19)
R.E.X. was hyping this as the heaviest disc they had ever released, but they delayed the release for so long that by the time it came out death metal was already dominating the scene and thrash was struggling to survive. Too bad as new vocalist Robert Wolfe had one of those cool high pitched shrieky voices that works so well with thrash. "Haunts" is stinkin' heavy and at times reminds me of later day Slayer and Death. Loads of gang vocals and some furious guitar playing. This disc is EXCELLENT. Kevin Ayers of Haven produced the disc. I bought this one as a new release in 1992. It's also almost impossible to find these days as R.E.X. no longer exists.
After the band broke up, bassist Eric Ney went onto play with Sardonyx for a short time. In 1999 he reappeared with Joey Daub (ex-Believer) in a new project called Fountain of Tears.