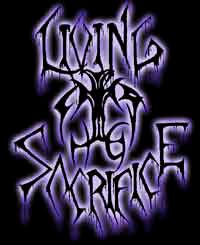 Living Sacrifice formed in 1989 in Little Rock, Arkansas with a lineup of bassist/vocalist D.J., guitarists Bruce Fitzhugh and Jason Truby, and drummer Lance Garvin (all of whom were teenagers at the time.) The band recorded a demo that ended up in the hands of Believer's Kurt Bachman, who inturn hooked them up with R.E.X. Living Sacrifice recorded their self-titled debut for R.E.X.; two others followed with Bruce eventually replacing D.J. before the label went bankrupt. Living Sacrifice then signed with the Solid State, which released their 1997 album "Reborn," and in addition re-issued the group's entire back catalogue.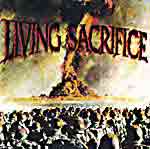 Living Sacrifice (R.E.X.)
1.   "Violence" (3:15)
2.   "Internal Unrest" (5:35)
3.   Second Death" (3:52)
4.   "Obstruction" (5:32)
5.   "Walls Of Separation" (4:15)
6.   "Phargx Imas" (3:55)
7.   "No Grave Concern" (4:47)
8.   "Dealing With Ignorance" (5:15)
9.   "The Prodigal" (3:45)
10. "Anorexia Spiritual" (4:42)
Living Sacrifice's debut smokes! This is thrash heavily influenced by early Slayer and Believer. The album is chock full of fast riffs, screaming vocals, killer leads and a raw, biting production. Until "Reborn" this was my favorite Living Sacrifice disc. For a long time this disc was worth some money as it was out of print and rare as heck. In 1999, however, Solid State re-released the disc with the original cover art but with new photos, extra liner notes and notes from the band.
"Progressive Change" a song off Living Sacrifice's first demo tape was released on the R.E.X. "Argh!!!" compilation.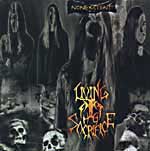 Living Sacrifice-Nonexistant (R.E.X.)

1.   "Emerge" (1:20)
2.   "Enthroned" (3:30)
3.   "Nonexistent" (4:47)
4.   "Haven of Blasphemy" (2:54)
5.   "...To Nothing" (3:17)
6.   "Void Expression" (5:40)
7.   "Atonement" (5:30)
8.   "Distorted" (4:41)
9.   "Chemical Straightjacket" (4:54)
10. "Without Distinction" (3:23)
Hmmm, what happened here? No more thrash metal, rather they have digressed into total downtuned death metal with Cookie Monster on vocals. Argh!!! Living Sacrifice are still technical as can be and write some killer riffs, but those vocals just suck! "Enthroned" is a KILLER song that Living Sacrifice re-recorded in 1999 with Bruce Fitzhugh on vocals, making it even better than the original. The song is only available on the "This Is Solid State Vol. 1" compilation.
Scott Albert of Circle of Dust fame also did some industrial remixes of some tracks off this album on the Metamorphosis cd. ("Void Expression" -blank stare mix, "Black Veil," "Distorted" -alternate reality mix, "Desolate"& "Sacrificed" - both unreleased tracks.) See the compilation page for more info.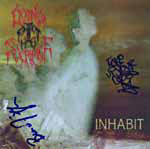 Living Sacrifice-Inhabit (R.E.X.)

1.   "In the Shadow" (2:58)
2.   "Not Beneath" (6:32)
3.   "Sorrow Banished" (2:57)
4.   "Unseen" (3:42)
5.   "Inhabit" (3:46)
6.   "Breathing Murder" (4:26)
7.   "Mind Distant" (5:41)
8.   "Darkened" (3:54)
9.   "Indwelling" (3:13)
10. "Departure" (7:08)
"Inhabit" follows in the footsteps of "Nonexistent." Heavily dowtuned death metal. The vocals are much better on this album than "Nonexistent," which makes this album far superior. The music is still consistently technical and over the top. Solid State re-released this disc with different cover art. "Inhabit" is a great disc but no where near as essential as: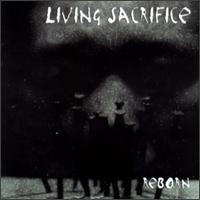 Living Sacrifice-Reborn (Solid State)
1.   "Reborn Empowered" (3:48)
2.   "Truth Solution" (4:59)
3.   "Threatened" (5:08)
4.   "Awakening" (4:06)
5.   "180" (4:55)
6.   "No Longer" (4:47)
7.   "Something More" (3:37)
8.   "Sellout" (3:39)
9.   "Spirit Fall" (3:48)
10. "Presence Of God" (3:44)
11. "Reject" (3:34)
Living Sacrifice return to their thrash roots, mixing in a whole lot of groove and a tad of hardcore attitude. Put this cd on and BAM, immediate and spontaneous whiplash occurs! This album is one of the best thrash albums ever released and one of my favorite discs of any band! It's one of those pummeling discs, like Sepultura's "Chaos AD," that I just can't sit still for. It has kept me awake on many long over-night drives! Funny thing about this disc is that I read more bad reviews than good reviews because people can't deal with the Christian lyrics. Too bad for them 'cause the music shreds!
Living Sacrifice-The Hammering Process (Solid State)
1... "Flatline"
2... "Bloodwork"
3... "Not My Own"
4... "Local Vengeance Killing"
5... "Altered Life"
6... "Hand Of The Dead"
7... "Burn The End"
8... "Hidden"
9... "Perfect"
10. "Conditional"
This disc would probably be labeled neo-metal and could possibly be put in the same school as Machine Head, Messuggah or even Sevendust, but I really just think it's hardcore with some metal influences. On first listen, "The Hammering Process" is not as infectious, nor as aggressive as "Reborn." Perhaps after a few more listens my opinion will change on that, but "Reborn" grabbed me immediately. Still the rhythms on this disc are unique and the energy level is very high. We'll see what I think after a few more listens.