Jag Panzer
Jag Panzer are a band out of Denver, CO, USA but their sound is rooted in British heavy metal. Ex-guitarist Joey Tafolla has also played with Alice Cooper and has a solo album out on Shrapnel.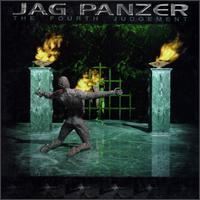 Jag Panzer-The Fourth Judgement (Century Media) 1997
1.   "Black" (4:54)
2.   "Call of the Wild" (3:17)
3.   "Despair" (4:29)
4.   "Future Shock" (3:54)
5.   "Recompense" (4:46)
6.   "Ready to Strike" (2:33)
7.   "Tyranny" (3:15)
8.   "Shadow Thief" (5:33)
9.   "Sonet of Sorrow" (2:21)
10. "Judgement Day" (6:47)
I had heard so many great things about this band, that I had to check them out. Jag Panzer are power metal in the tradition of Judas Priest and early Fates Warning. The music is heavy and very well crafted. The production is outstanding and was recorded and mixed by Jim Morris (Death/Iced Earth). For some reason, however, this one just didn't hit me over the head and grab my attention like I thought it would.
Jag Panzer-Mechanized Warfare (Century Media) 2001
1. Take to the Sky (5:28)
2. Frozen in Fear (3:42)
3. Unworthy (6:09)
4. The Silent (5:15)
5. The Scarlet Letter (3:53)
6. Choir of Tears (6:11)
7. Cold Is the Blade (And the Heart That Wields It) (5:55)
8. Hidden in My Eyes (4:26)
9. Power Surge (6:14)
10. All Things Renewed (7:01)
Growth by leaps and bounds here. I haven't really followed or heard anything by this band since 'The Fourth Judgement.' This band has progressed so far it's beyond description. The style remains the same, staying within the boundries of power metal and still calling to mind Iron Maiden, yet there is so much more to the band than I heard in 'Fourth Judgement.' The rich, layered vocal melodies are woven in along with the complex, chugging guitar rhythms and some odd keyboard and string interludes. Guess I will have to seriously look into some of their back catalogue.