Deep Purple
Deep Purple-The Book of Taliesyn (Passport) 1968
1. "Listen, Learn, Read On" (4:04)
2. "Wring that Neck (Hard Road)" -instrumental (5:13)
3. "Kentucky Woman" (4:44)
4. a: "Exposition"-instrumental
.. .b: "We Can Work it Out" (7:07)
5. "Shield" (6:06)
6. "Anthem" (6:31)
7. "River Deep, Mountain High" (10:12)
As much as I love Purple, their early albums never thrilled me. It's really trippy, hippy stuff as compared to the in-your-face rock that Purple did with Gillan starting in 1970. Still, I do occassionally dig hearing some of these old tunes. I was planning on picking up the Spitfire re-issue of this disc since it contains several bonus tracks and is supposedly remastered. I found this copy for $1 and decided it would do until the time I get the re-issue. $1, geez, what were they thinking? "Book of Taliesyn" contains three covers, the best of which is, of course, Neil Diamond's "Kentucky Woman." Tina Turner's "River Deep, Mountain High" sounds nothing like the original, which is cool. "We Can Work It Out" is a Beatles cover that I could have lived without.
Deep Purple-The Gemini Suite (Purple Pyramid) 1998
1. "First Movement: Guitar Voice" (17:22)
2. "Second Movement: Organ Bass" (10:18)
3. "Third Movement: Drums Finale" (16:50)
John Lord's 'Gemini Suite' recorded live at the Royal Festival Hall in September of 1970. This cd version of the classic concert is a very nice collector's disc, complete with limited edition gold cd, poster, full color insert with extensive liner notes and photos all wrapped up with a nice slipcase. As for the music, well it certainly isn't the normal Deep Purple experience, nor was it ever intended to be. According to the liner notes and quotes from John Lord, this was suppose to be an experimental project and nothing else. Apparently while working on "In Rock" the band was at the same time practicing for this concert. Each of the three movements were designed with a particular instrument in mind, as is apparent by the titles. Each is fantasitic, with my favorite movement being the final drum piece. Excellent! Must also mention that this was one of the earliest recording with 'new' vocalist Ian Gillan. I found this cd for a mere $4.99. Can't beat that.

Deep Purple-In Rock (Warner Bros.) 1970
1."Speed King" (4:18)
2."Bloodsucker" (4:12)
3."Child in Time" (10:15)
4."Flight of the Rat" (7:52)
5."Into the Fire" (3:29)
6."Living Wreck" (4:30)
7."Hard Lovin' Man" (7:10)
The first album with Ian Gillan, which defined the band's sound for years to come. Excellent! One of their best albums ever. Actually much of their material before this disc, was more obscure and a bit more psychadelic.
Deep Purple-Fireball (Warner Bros.) 1971
1. "Fireball" (3:26)
2. "No No No" (6:54)
3. "Demon's Eye" (5:21)
4. "Anyone's Daughter" (4:43)
5. "The Mule" (5:22)
6. "Fools" (8:20)
7. "No One Came" (6:26)
BONUS TRACKS
8. "Strange Kind of Woman" (a-side remix) (4:06)
9. "I'm Alone" (b-side) (3:08)
10. "Freedom" (album out-take) (3:35)
11. "Slow Train" (album out-take) (5:36)
12. "Demon's Eye" (remix) (6:20)
13. The Noise Abatement Society Tapes" -instrumental (4:16)
14. "Fireball" -instrumental (Take 1) (4:08)
15. "Backward Piano" -instrumental (:55)
16. "No One Came" (remix) (6:23)
After releasing a groundbreaking album like 'In Rock,' you'd think that Deep Purple would have went for the same formula and release a mirror-image album, but this just was not the case. "Fireball" is a landmark, creative album mixing elements of blues, psychadelia, heavy metal and, uh, down-home hillbilly music. Always liked the humerous, hillbilly sounds of "Anyone's Daughter." Most of the music on here does rock hard though, with at least five tracks from the original release giving warning to what would come a year later. This awesome 25 year special edition cd contains tons of bonus material and a 28 page booklet with loads of photos and notes by Roger Glover. Excellent!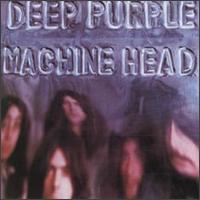 Deep Purple-Machine Head (Warner Bros.) 1972
1."Highway Star" (6:05)
2."Maybe I'm a Leo" (4:51)
3."Pictures of Home" (5:03)
4."Never Before" (3:56)
5."Smoke on the Water" (5:40)
6."Lazy" (7:19)
7."Space Truckin'" (4:31)
This is one of THE GREATEST heavy metal albums ever recorded--pure and simple! Some even credit this album with starting the heavy metal revolution that swept through the 70's and 80's. Regardless, I have loved this album since I was a kid. Always liked the cover too. Excellent!
Metal Church did an excellent cover of "Highway Star"; Impelliteri also covered "Highway Star." Vengeance Rising pulled off a thrash metal version of "Space Truckin'" and Metalium covered "Smoke on the Water."
Deep Purple-Made in Japan-The Remastered Edition (Warner Bros.) 1973
DISC ONE
1. "Highway Star" (6:42)
2. "Child in Time" (12:18)
3. "Smoke on the Water" (7:37)
4. "The Mule (drum solo)" (9:28)
5. "Strange Kind of Woman" (9:52)
6. "Lazy" (10:27)
7. "Space Truckin'" (19:53)
DISC TWO
1. "Black Night" (6:17)
2. "Speed King" (7:25)
3. "Lucille" (8:03)
On the heels of one of the greatest studio albums of all time, comes one of the greatest live albums. I love live albums, especially by 70's bands, as they tended to extend the songs into long jams. This is especially true of Deep Purple. Also the live atmosphere tended to beef up the sound a bit. This double record set was originally re-released on cd as a single disc but was later remastered and reissued on a two disc version. Originally I had the single disc version which I held onto for years. I finally got the two disc version for only $2.50 through BMG. Can't beat that. This "25th Anniversary" remastered edition adds the bonus disc with 3 encore tracks.
Deep Purple-Burn (Warner Bros.) 1974
1."Burn" (6:00)
2."Might Just Take Your Life" (4:36)
3."Lay Down, Stay Down" (4:15)
4."Sail Away" (5:48)
5."You Fool No One" (4:47)
6."What's Goin' on Here" (4:55)
7."Mistreated" (7:25)
8.""A" 200"-instrumental (3:51)
Another fabulous album from a band that seemed to be disintegrating. David Coverdale (vocals) and Glenn Hughes (bass/vocals) joined the band at this point and the music became heavier and a bit bluesier. Many said it helped to revitalize the band. This could be true since there are many excellent songs here, including the title track, "Might Just Take Your Life", and the classic "Mistreated," which has been kept alive by Dio through the years. Despite the fact that the band had two vocalists, I have a hard time telling them apart. Both Glenn and David have similar tones and styles. "Mistreated" is the only song that David Coverdale sung by himself.
Deep Purple-The Originals Vol. 2.: Who Do We Think We Are/Stormbringer/Come Taste the Band
Who Do We Think We Are
1973

1. "Woman from Tokyo" (5:50)
2. "Mary Long" (4:25)
3. "Super Trouper" (2:56)
4. "Smooth Dancer" (4:10)
5. "Rat Bat Blue" (5:23)
6. "Place in Line" (6:31)
7. "Our Lady" (5:12)

Stormbringer 1974

1. "Stormbringer" (4:03)
2. "Love Don't Mean a Thing" (4:23)
3. "Holy Man" (4:28)
4. "Hold On" (5:05)
5. "Lady Double Dealer" (3:19)
6. "You Can't Do it Right (With the One You Love)" (3:24)
7. "High Ball Shooter" (4:26)
8. "The Gypsy" (4:13)
9. "Soldier of Fortune" (3:14)

Come Taste the Band 1975

1. "Comin' Home" (3:52)
2. "Lady Luck" (2:45)
3. "Gettin' Tighter" (3:36)
4. "Dealer" (3:49)
5. "I Need Love" (4:22)
6. "Drifter" (4:01)
7. "Love Child" (3:05)
8. "This Time Around"/
"Owed to 'G'"--instrumental (6:07)
9. "You Keep on Moving" (5:18)
All three of these cds are part of a box set called "The Originals Vol. 2." All the CDs come with sleeves which are miniture replicas of the original vinyl packaging.
Who Do We Think We Are
"Who Do We Think We Are" is the follow-up to the ground breaking "Machine Head." I cannot even begin to imagine the pressure the band must have been under to follow-up such a stellar release. On top of this by 1973-74 both Black Sabbath and Led Zeppelin were also breaking ground in what was then being labeled Heavy Metal. (Of course by today's standards, these albums are considered hard rock rather than heavy metal). I suppose that pressure caused this album to be a disappointment in the eyes of most, and this ended up being the last output of the classic Mach II line-up. The album did have a single in "Woman from Tokyo" but overall, this disc does not stand up to the last three. That is not to say the album 'sucks.' Far from that. It's just that when the standard is set so high, it's hard to hit that standard with every release. "Rat Blue Rat" is
another fine example. This song could have been included on 'Machine Head' and would have fit in perfectly. Perhaps what I am trying to say is that 'Who Do We Think We Are' is not a consistant all the way through as past albums were.
"Rat Bat Blue" has been covered by Helloween.
Stormbringer
I never got into this album like I did most of the past Purple albums. 'Burn' was an excellent album, showing a band revitalized by it's new members. This album, followed in the progression of 'Burn' taking the bluesy feel even further, and getting away from the heavy metal sounds of 'Machine Head' and 'In Rock.' There are some fine moments on this platter, and both David Coverdale and Glenn Hughes do a fine job in the vocal department, so I'm not sure what it was that I initally didn't like about this disc years ago. 'Stormbringer' also features one of the coolest album covers that the band had done so far.
Come Taste the Band
Exit Ritchie Blackmore who went on to join Ronnie James Dio and Elf to record the first Rainbow album. Enter Tommy Bolin. Bolin proves he is every bit the guitarist that Blackmore was, although there is no replacing the charisma of the original. Cuts like "Dealer," "Lady Luck" and "You Keep On Moving" prove the band was far from down and out. Still, as with any of the post-Gillan discs, I don't think you can honestly put these discs on the same level as those.

Deep Purple-Perfect Strangers (Warner Bros.) 1984
1."Knocking at Your Back Door" (7:04)
2."Under the Gun" (4:38)
3."Nobody's Home" (3:59)
4."Mean Streak" (4:21)
5."Perfect Strangers" (5:28)
6."A Gypsy's Kiss" (5:12)
7."Wasted Sunsets" (3:55)
8."Hungry Daze" (4:58)
9."Not Responsible" (4:47)
10."Son of Alerik"--instrumental (10:07)
In 1984 the classic "Mach II" lineup of Gillan, Blackmore, Lord, Glover & Paice reformed to record this album. "Perfect Strangers" has my vote for one of the greatest comeback albums of all time! Pure brilliance. A return to excellence.
Dream Theater covered "Perfect Strangers."
The House of Blue Light (Mercury) 1987
1."Bad Attitude" (5:03)
2."The Unwritten Law" (4:54)
3."Call of the Wild" (4:48)
4."Mad Dog" (4:35)
5."Black & White" (4:39)
6."Hard Lovin' Woman" (3:24)
7."The Spanish Archer" (5:31)
8."Strangeways" (7:35)
9."Mitzi Dupree" (5:05)
10."Dead or Alive" (4:59)
The follow up to the spectacular "Perfect Strangers" is almost as good. The problem is not in the songs but in the overly clean 80's production. With a slightly heavier, dirtier production this album would have been just that much better. As it stands, however, this is still an enjoyable disc. Sounds slightly like 80's Rainbow with Gillan on vocals. Picked this one up used for $5.99.

Deep Purple-Slaves & Masters (RCA) 1990
1."King of Dreams" (5:30)
2."The Cut Runs Deep" (5:42)
3."Fire in the Basement" (4:43)
4."Truth Hurts" (5:14)
5."Breakfast in Bed" (5:16)
6."Love Conquers All" (3:47)
7."Fortuneteller" (5:45)
8."Too Much is Not Enough" (4:19)
9."Wicked Ways" (6:35)
With vocals by Joe Lyn Turner, this album sound more like Rainbow than Deep Purple. Never really interested in this one because of this, but I found this copy ultra-cheap. It's not as bad as I throught it would be, but it's not up to par with most Ian Gillan-era discs.

Deep Purple-The Battle Rages On (Giant) 1993
1. "Battle Rages On" (5:55)
2. "Lick It Up" (3:59)
3. "Anya" (6:31)
4. "Talk About Love" (4:07)
5. "Time to Kill" (5:48)
6. "Ramshackle Man" (5:33)
7. "Twist in the Tale" (4:16)
8. "Nasty Piece of Work" (4:35)
9. "Solitaire" (4:41)
10. "One Man's Meat" (4:38)
"The Battle Rages On..." is Deep Purple's fourth new studio album after getting back together (AGAIN?!?). This disc also marked the return of lead singer Ian Gillan, once again, who had ditched out in 1989. (as well as several other times before and after this disc) Unfortunately, this album was a bit of a mistep for Deep Purple with Ian Gillan mixed way back in the mix and the songs sounding more like pop rock than classic Purple. This may be why both Ian Gillan and Ritchie Blackmore left shortly after this one was released. Of course, they both eventually came back again, then left, oh wait, then they came back again.. (-:

Deep Purple-Purpendicular (Prominent) 1996
1. "Vavoom: Ted the Mechanic" - 4:16
2. "Loosen My Strings" - 5:57
3. "Soon Forgotten" - 4:47
4. "Sometimes I Feel Like Screaming" - 7:29
5. "Cascades: I'm Not Your Lover" - 4:43
6. "Aviator" - 5:20
7. "Rosa's Cantina" - 5:10
8. "Castle Full of Rascals" - 5:11
9. "Touch Away" - 4:36
10. "Hey Cisco" - 5:53
11. "Somebody Stole My Guitar" - 4:09
12. "Purpendicular Waltz" - 4:45
This is a fabulous Deep Purple record. Apparently guitarist Steve Morse (ex-Dixie Dreggs/Kansas) sparked a bit of a fire under the band's butt. This album comes twenty-eight years after the band's inception and is the most creative Deep Purple record of the 90's, and possibly the 80's as well. OK, nothing will be able to surpass "Machine Head" but this one is pretty darn good. Check out the finger snapping, head busting "Hey Ciso," or the acoustic "The Aviator," or the guarantee-to-be-a classic "Sometimes I Feel Like Screaming." "Somebody Stole My Guitar" shows that the band still has a sense of humor. I gave this one a shot after reading a stellar review in a magazine. Otherwise I would never have touched a Purple album without Ritchie Blackmore. Held out for a used copy, found one a few months later for $5.99.
Deep Purple-Abandon (CMC International) 1998
1. "Any Fule Kno That" (4:27)
2. "Almost Human" (4:49)
3. "Don't Make Me Happy" (4:45)
4. "Seventh Heaven" (5:29)
5. "Watching the Sky" (5:57)
6. "Fingers to the Bone" (4:53)
7. "Jack Ruby" (3:47)
8. "She Was" (4:17)
9. "Whatsername" (4:11)
10. "'69" (5:13)
11. "Evil Louie" (4:50)
I know I will probably be chastised for saying this, but I really think that Ritchie Blackmore leaving Deep Purple was the best thing to happen to the band in the 90's. This album is almost as enjoyable as "Purpendicular." "Abandon" is a slightly harder rocking album than its predecessor, however. Steve Morse is a fabulous guitarist and really adds a lot to the sound, sometimes giving the band a neo-progressive sound. The other thing that I must mention, to Purple's credit, is that they do not sit back and rely on their past hits to sell albums. There are no acoustic versions or re-recorded songs on this disc, although I probably would not have minded even if they had. Many bands from the 70's continue to tour but few are still writing quality new material. I'm not sure that this disc will win over to many new fans, but die-hards like myself, are loving the revitalized material. Oh, one other thing I must mention about this album, I paid a premium price for it through BMG to fulfill my one cd a year obligation to them. With shipping the disc cost me almost $20. OUCH! Oh well, I get a bunch of free ones for buying it. At least the disc will get plenty of spin time, so I will get my $20 worth.