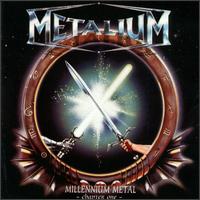 Metalium-Millennium Metal-Chapter One (Pavement) 1999
1. "Circle of Fate" -intro (1:47)
2. "Fight" (3:12)
3. "Dream of Doom" (3:33)
4. "Break the Spell" (3:56)
5. "Revelation" (3:21)
6. "Metalium" (4:35)
7. "Metamorphis" (5:18)
8. "Void of Fire" (2:39)
9. "Free Forever" (4:10)
10. "Strike Down the Heathen" (3:44)
11. "Pilgrimage" (5:10)
12. "Metalians" (4:08)
13. "Smoke on the Water" (5:36)
14. "Burning" (5:18)
Power metal madness that borders speed metal at times. Stupid title for this excellent metal work! Track 13 is a Deep Purple cover, obviously, and track 14 is an exceptionally done Accept cover. At the end of track 14 is a hidden "be true to metal sermon." Kind of silly, but then again, maybe not. Metallium are: Chris Caffery (Savatage/Doctor Butcher), Mike Terrana (Yngwie/Doctor Butcher), Lars Ratz, Matthias Lang, and vocalist extraordinary Hanning Basse.
Metalium-State of Triumph-Chapter Two (Pavement) 2000
1. "Elements" (1:42)
2. "Steel Avenger" (3:21)
3. "Years of Darion" (5:06)
4. "Break Out" (4:11)
5. "Erania" (4:27)
6. "Stygian Flames" (4:16)
7. "Prophecy" (7:55)
8. "Eye of the Storm" (4:24)
9. "Inner Sight" (5:54)
10. "State of Triumph" (7:40)
11. "Music" (5:55)
Metalium Chapter 2 is minus Chris Caffery, which is not surprising as Chris seems to move about from band to band quite a bit. Anyhow, I think Metalium has always been Lars Ratz' baby. The music on disc number two continues in similar manner to disc number one, recalling the days when metal ruled the world. This band style is heavily influenced by German metallers like Helloween and Gamma Ray. Their look, however, is that of a the silver surfer. Strange to say the least. I wonder if they perform in this make-up and silver outfits. Hmmm, probably not. Anyhow, Metalium are yet another band to join Manowar and Hammerfall on a metal crusade to take over the world. This is what is printed at the bottom of the thank you notes: "A loud 'hail' goes out to all metal-warriors who are also fighting this battle for metal and believe in what they are doing and who we are! Never Surrender!!" So there you have it. Fly your metal banner high while rocking to the new champions of the heavy metal wars.