.
Metal Church are a great metal band from Seattle, (yes, way before grunge.) Metal Church never reached the level of success of label-mates Metallica, although they deserved to. The first two albums featured singer David Wayne. For the next three albums ex-Heretic singer Mike Howe inherited the mic. The new band, in my opinion, was even better. David Wayne went on to form Reverend, with, ironically enough, some of the ex-members of Heretic. After only three more albums, Metal Church became discouraged and broke up. However, in 1998 they reformed with all the original members and released a live album from "The Dark" tour. In '99 they singed with Nuclear Blast and released a new studio album.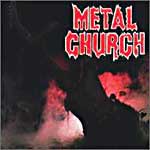 Metal Church (Elektra) 1986
1."Beyond the Black" (6:21)
2."Metal Church" (5:00)
3."Merciless Onslaught"-instrumental (2:55)
4."Gods of Wrath" (6:42)
5."Hitman" (4:31)
6."In the Blood" (3:30)
7."(My Favorite) Nightmare" (3:10)
8."Battalions" (4:54)
9."Highway Star" (4:37)
Riding the line between thrash and power metal, Metal Church burst onto the scene with their self titled debut, and what a debut it was. David Wayne's falsetto wail, on top of Kurt Vandehoof's heavy riffs, was a metalhead's dream."Highway Star" is a Deep Purple song. Metal Church's debut is a genuine metal classic that has seen repeated spins in my cd player! Found my copy for a $3.99, so I guess I got my money's worth!
Metal Church- The Dark (Elektra) 1986
1."Ton of Bricks" (3:00)
2."Start the Fire" (3:50)
3."Method to Your Madness" (4:52)
4."Watch the Children Pray" (5:57)
5."Over My Dead Body" (3:26)
6."The Dark" (4:11)
7."Psycho" (3:32)
8."Line of Death" (4:42)
9."Burial at Sea" (4:58)
10."Western Alliance" (3:18)
"Ton of Bricks" is one of the coolest speed metal songs ever. This album should be re-released as a double disc with the first album as they go together so well. Not sure what happened but this was the last album for singer David Wayne, who I thought help give them their sound. However, better things were to come. Kurdt Vanderfhoof co-produced a Heretic album called "Breaking Point" around this same time that featured Mike Howe on vocals.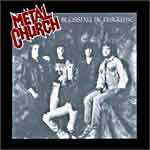 Metal Church-Blessing in Disguise (Elektra) 1989
1."Fake Healer" (5:55)
2."Rest in Pieces (April 15, 1912)" (6:38)
3."Of Unsound Mind" (4:44)
4."Anthem to the Estranged" (9:31)
5."Badlands" (7:21)
6."The Spell Can't Be Broken" (6:46)
7."It's a Secret"--instrumental (3:47)
8."Cannot Tell a Lie" (4:17)
9."The Powers That Be" (5:22)
In my estimation, "Blessing in Disguise" is one of the finest true metal albums ever to be released. New vocalist Mike Howe brings new dimensions to the band. Also, the new socially conscious lyrics gets Metal Church tagged with the "thinking man's band" label.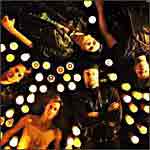 Metal Church-The Human Factor (Epic) 1991
1."The Human Factor" (4:59)
2."Date with Poverty" (5:18)
3."The Final Word" (6:00)
4."In Mourning" (5:58)
5."In Harm's Way" (7:00)
6."In Due Time" (4:03)
7."Agent Green" (5:56)
8."Flee from Reality" (4:10)
9."Betrayed" (4:30)
10."The Fight Song" (3:27)
BRILLIANT! "The Human Factor: is simply a brilliant true metal album. Metal Church are the very definition of power metal. Why this release didn't send Metal Church soaring up the metal charts is a mystery to me. In any case the title track takes a stand against (c)rap music and the music industry in general. "Betrayed" takes a look at the affects of alcohol and alcoholism . "The Final Word," my favorite song lyrically, sheds some light on freedom of speech and how it could (should) be used. Great lyrics! The cover art is a bit weird.

Metal Church-Hanging in the Balance (Blackheart Records) 1993
1."Gods of Second Chance" (5:25)
2."Losers in the Game" (5:06)
3."Hypnotized" (4:40)
4."No Friend of Mine" (3:56)
5."Waiting for a Savior" (5:45)
6."Conductor" (4:08)
7."Little Boy" (8:12)
8."Down to the River" (4:58)
9."End of the Age" (7:17)
10."Lovers and Madmen"-instrumental (2:59)
11."A Subtle War" (4:05)
Oh man, I recently discovered that there is an import version of this with an unreleased track. Great! Another disc I have to RE-buy! Anyhow, the band was starting to sound a little less enthusiastic and hungry on this one, although it is still a good disc. Really bad cover art this time.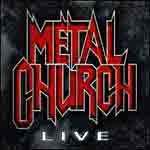 Metal Church-Live (SPV) 1998
1. "Ton of Bricks" (2:51)
2. "Hitman" (4:17)
3. "Start The Fire" (3:54)
4. "Gods of Wrath"(6:27)
5. "The Dark" (3:53)
6. "Psycho" (3:28)
7. "Watch the Children Pray" (5:35)
8. "Beyond the Black" (6:31)
9. "Metal Church" (4:36)
10. "Highway Star" (4:33)
I acquired this when it was only available as a pricey import from Germany. Fortunately I have friends there who hooked me up for much less than I would have paid through an importer. Two years later Nuclear Blast America picked this disc up and re-released it in the U.S.. Good thing I didn't spend $30 on the import. The songs on this disc are from the first two albums. The performance isn't perfect, which goes to show they didn't do a lot of editing and fixes in the studio. Fine with me as this is the way a live album should be. Worth picking up if you are a fan of the band.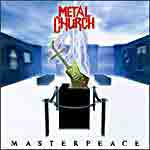 Metal Church-Masterpeace (Nuclear Blast) 1999
1. "Sleeps with Thunder" (6:01)
2. "Falldown" (4:37)
3. "Into Dust" (4:16)
4. "Kiss for the Dead" (6:50)
5. "Lb. Of Cure" (4:33)
6. "Faster than Life" (4:52)
7. "Masterpeace" -instrumental (1:55)
8. "All Your Sorrows" (5:41)
9. "They Signed in Blood" (7:27)
10. "Toys in the Attic" (3:14)
11. "Sands Kings" (4:40)
OK, the point is not to do something "new and fresh." I'm tired of reading bad reviews on this disc. The point was to make some REAL METAL. (as opposed to all the rap-crap they are calling metal in the late 1990's.) Frankly I think Metal Church sounds like a band that is once again charged and hungry, making an album that would have followed up perfectly "The Dark." As one of the members of Metal Church said in their Metal Maniacs interview, "Get your rap out of my metal!" Ordered this disc directly from Nuclear Blast America. Support REAL metal! Buy this cd! "Toys in the Attic" is an Aerosmith cover.
Related bands: Wayne, Reverend, Heretic


Back to Index