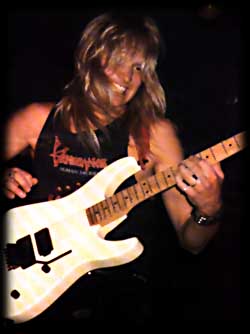 True American heavy metal!
Sacred Warrior-Rebellion (Medussa/Intense)
1. "Black Metal" (4:40)
2. "Mad, Mad World" (4:16)
3. "Stay Away from Evil" (2:47)
4. "He Died" (3:55)
5. "Children of the Light" (2:39)
6. "Rebellion" (4:30)
7. "Day of the Lord" (3:37)
8. "The Heaven's Are Calling" (4:33)
9. "Famine" (5:12)
10. "Master of Lies" (3:14)
11. "Sword of Victory" (3:31)
In 1988 when this came out, there weren't very many metal bands with a Christian message like Sacred Warrior, except for Stryper and Bloodgood. I was stoked to get this heavily Metal Church/Queensryche influenced disc. Actually this is one of the first cds I bought and I found it used in a secular cd store with a hand written sticker that said " very tight power metal band! Excellent!" Had to pick that one up. The clerk told me the guitarist was a shredder and the vocalist was similar to Geoff Tate. The music lived up to what the store said about it, but in comparison to their next three discs, this one doesn't hold up. Some of the lyrics are a bit silly as well, although I dig metal that has something to more say than the typical complaining about religion or "look how evil we are" shock lyrics. Favorite track: "Sword of Victory."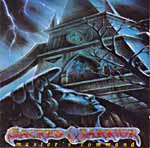 Sacred Warrior-Masterís Command (Intense)
1. "Master's Command" (4:53)
2. "Beyond the Mountain" (4:25)
3. "Evil Lurks" (4:26)
4. "Bound in Chains" (3:45)
5. "Unfailing Love" (5:31)
6. "Paradise" (5:21)
7. "Uncontrolled" (3:47)
8. "Many Will Come" (3:53)
9. "Onward Warriors" -instrumental (3:13)
10. "The Flood" (4:15)
11. "Holy, Holy, Holy" (4:27)
"Masters Command" is leaps and bounds better than "Rebellion" in every aspect. The style has not changed much, they are still 100% heavy metal but the songwriting, musicianship and production are excellent. Ray Perra's vocals are angelic and glass shattering and Bruce Swift is a proficient guitar player. Keyboards are used, but not excessively. Roger Martinez (Vengeance Rising) makes a guest vocal appearance on "The Flood" a heavy speed metal tune about Noah and the flood and parallels it to the wickedness in modern society. His vocal growl mixed with Ray's smooth as silk voice give the song nice contrasts. "The Flood" is one of my favorite Sacred Warrior tunes. "Holy" is a Christian worship song that I sing in church but it never sounded this good in the pews. Sacred Warrior are Christian metal at it's best. This disc, along with "Rebellion" were re-issued on a single disc by KMG. The re-issue has no bonus tracks and is missing all the liner notes and artwork.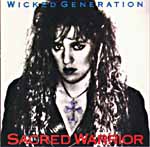 Sacred Warrior-Wicked Generation (Intense)
1. "No Happy Endings" (5:09)
2. "Little Secrets" (6:18)
3. "Standing Free" (5:00)
4. "Are You Ready" (3:05)
5. "Minister by Night" (3:35)
6. "Miss Linda" (4:51)
7. "In the Night" (5:58)
8. "Warriors" (3:13)
9. "Wicked Generation" (4:44)
10. "War Torn Hero" (4:57)
Sacred Warrior get a bit more aggressive in their songwriting while at the same time sounding more progressive and melodic. "Are You Ready" and "Minister by Night" both push the boundries of speed metal. The rest of the album is mid to slow paced progressive metal with great vocals. This is somewhat of a concept album with a story about a young person struggling through life and finally finding hope in Christ. The liner notes state, "They're not children of Satan, theyíre who we make them." If there is one thing you can't accuse Sacred Warrior of it's writing wimpy lyrics. They are very up-front about their Christianity.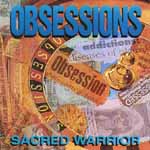 Sacred Warrior-Obsessions (Intense)
1. "Wings of a Dream" (4:48)
2. "Sweet Memories" (4:31)
3. "Turning Back" (4:11)
4. "Obsessions" (4:46)
5. "Kamakazi" (4:49)
6. "Remember Me" (4:40)
7. "Fire from Heaven" (4:16)
8. "Temples on Fire" (4:03)
9. "Mad Man" (6:13)
This is the best Sacred Warrior disc and unfortunately the last. "Obsessions" is melodic, heavy, and full of emotion. Longtime keyboardist Rick Macias left the band at this point and was replaced by a second guitar player, John Johnson.
Intense released a best of compilation after this cd but it contains no new material thus negating my need to buy it. Sacred Warrior have also been on serveral compilations, but never anything that hasn't already been released.
Sacred Warrior-Live at Cornerstone 2001 (M8) 2001
1. "Intro" (1:10)
2. "Children of the Light" (2:57)
3. "Remember Me" (4:37)
4. "Rebellion" (6:26)
5. "Holy Holy Holy" (4:18)
6. "Little Secrets" (2:34)
7. "Wicked Generation" (2:10)
8. "Heavens Are Calling" (3:26)
9. "Come On" (2:15)
10. "Day By Day" (5:19)
11. "Prince of Peace" (3:43)
12. "Temples of Fire" (4:32)
Man these guys have not lost one ounce of their energy. The band is tight, their performance is excellent and Ray Perra sounds as good as he did in the early 90's. Of all the simultaneously released Cornerstone 2001 discs, this one impressed me the most. Considering some of the others were by favorites of mine like Deliverance and Recon, that is saying a lot. Not only does the band sound great, but they bring a real spirit of worship and reverance to the Almighty. Of course this has always been a strong point of Sacred Warrior. The new tracks "Day by Day" sounds good and gives hope for a new release from these guys in the future. My only real complaint here is that the packaging, like most M8 releases is very cheap and generic looking. Also, the set is short. Would have loved to have heard more from this classic band.