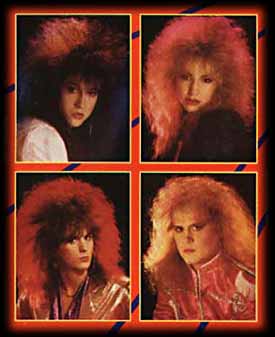 Scarlet Red are 80's Christian glam metal!

Scarlet Red-Don't Dance with Danger (Pure Metal)
1. You Live Fast" (4:48)
2. "Cry Out" (2:47)
3. " Never" (3:33)
4. "Knock Down the Walls" (4:06)
5. "Fight Fire" (2:47)
6. "Don't Dance With Danger" (3:21)
7. "Lost and Found" (2:42)
8. "Hold On To Love" (4:20)
9. "Why" (3:37)
10. "Break the Chains" (3:57)
This band is feaking hilarious. Can you tell which of the four band members is the girl singer? HA! This band would give Nitro a fight for the most outrageous glam look. Anyhow, this is a VERY RARE disc. I have the original Pure Metal release. I think this was the only album this band ever put out, although I think another disc of early demos was released a few years ago.