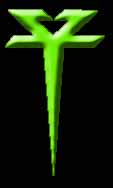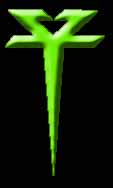 Trouble were a doom band that were falsely accused of being a Christian metal band. In their early years Trouble often labeled themselves White Metal. While their lyrics were sometimes based on the Bible, or religious ideals, many times they were just spiritual psycho-babble that were based more on their heavy drug use than anything else. I must say though that it was cool to hear a band give praise to God rather than to Satan as was more common, and accepted, in the 80's metal scene. Bruce Franklin, who is one of Trouble's founders also recorded an album with Doug Pinnick of King's X called Supershine.

Trouble-Psalm 9/The Skull (Metal Blade)
1."The Tempter" (6:35)
2."Assassin" (3:12)
3."Victim of the Insane" (5:08)
4."Revelation (Life or Death)" (5:05)
5."Bastards Will Pay" (3:42)
6."The Fall of Lucifer" (5:42)
7."Endtime"--instrumental (4:55)
8."Psalm 9" (4:48)
9."Pray for the Dead" (5:51)
10."Fear No Evil" (4:09)
11."The Wish" (11:35)
12."Wickedness of Man" (5:45)
13."Gideon" (5:08)
14."The Skull" (5:52)
Most people say that what became known as "Psalm 9" is the best Trouble album and I would not necessarily disagree. I still have my white vinyl copy I bought when this first came out. I remember this album caused a big commotion because in the song "Bastards Will Pay" Trouble uses the "f" word. (As I already said, they are NOT a Christian band.) Anyhow, I searched for a long time for a used copy of this on cd and finally ended up getting this cool European import re-issue with both albums on one disc. This two-on-one release is missing one song from each album (the Cream-cover of "Tales of brave Ulysses" from Psalm 9 and "The Truth is What Is" from The Skull), thus the need for me to keep my original cd version of "The Skull" and my original white-vinyl copy of what is now known as "Psalm 9." FYI, there were only 2000 copies of the white vinyl debut ever pressed.
On a side note, Ted Kirkpatrick from Tourniquet played with Trouble for a short spell and did a fine live rendition of "The Tempter" on the Intense Live Series and on the Metal Blade version of "Pathogenic Occular Dissonance.".

Trouble-The Skull (Combat/Metal Blade)
1."Pray for the Dead" (5:51)
2."Fear No Evil" (4:09)
3."The Wish" (11:35)
4."Truth Is, What Is" (4:34)
5."Wickedness of Man" (5:45)
6."Gideon" (5:08)
7."The Skull" (5:52)
I remember people thought this album was disappointing. Don't know why, it's a great disc with loads of long slow dirges. I mean, it's classic Trouble. I bought this disc before I found the above double disc otherwise I would not have bought it, although it is cool to have all the original art and liner notes.

Trouble-Run to the Light (Metal Blade)
1."The Misery Shows" (5:33)
2."Thinking of the Past" (3:51)
3."On Borrowed Time" (5:25)
4."Run to the Light" (5:58)
5."Peace of Mind" (3:01)
6."Born in a Prison" (4:45)
7."Tuesday's Child" (3:28)
8."The Beginning" (5:22)
A transition was taking place here from the doom band they were hailed as to a more bluesy, retro-rock/metal band. Still, I really liked it when it came out. The lyrics were really Christian on this one and, of course, hailed by the Christians who were clamoring for good Christian metal. Favorite tune: "Misery Shows."

Trouble-Trouble (Def America)
1."At the End of My Daze" (3:12)
2."The Wolf" (4:32)
3."Psychotic Reaction" (3:12)
4."A Sinner's Fame" (4:17)
5."The Misery Shows (Act II)" (7:16)
6."R.I.P." (4:08)
7."Black Shapes of Doom" (3:44)
8."Heaven on My Mind" (4:07)
9."E.N.D." (2:24)
10."All is Forgiven" (5:08)
Trouble has a new label, better production and new groovier sound, still borrowing heavily from Black Sabbath, but less doomy. The Christian based lyrics are all but gone with the possible exception of "Heavens on My Mind." One of my favorite Trouble releases. I wore the grooves off the record before replacing it with the cd. Guitarist, co-founding member Bruce Franklin recorded a n industrial metal side project around this same time called Generation.

Trouble-Manic Frustration (Def America)
1."Come Touch the Sky" (2:53)
2."'Scuse Me" (3:25)
3."The Sleeper" (3:15)
4."Fear" (3:38)
5."Rain" (4:06)
6."Tragedy Man" (4:27)
7."Memory's Garden" (4:24)
8."Manic Frustration" (4:10)
9."Hello Strawberry Skies" (3:04)
10."Mr. White" (3:26)
11."Breathe..." (6:28)
"Manic Frustration" features thick, heavy guitar riffs and psychedelic retro blues rock mixed with Sabbath-like heavy metal. Weird stuff! Too many drugs I suppose, but I still like it. Sort of a loner on this one I guess, as everyone I know hates it.

Trouble-Plastic Green Head (Century Media)
1."Plastic Green Head" (3:35)
2."The Eye" (4:20)
3."Flowers" (4:20)
4."Porpoise Song" (4:42)
5."Opium-Eater" (4:25)
6."Hear the Earth" (3:59)
7."Another Day" (4:53)
8."Requiem" (4:54)
9."Below Me" (3:37)
10."Long Shadows Fall" (2:45)
11."Tomorrow Never Knows" (5:23)
12."Till the End of Time" (4:09)
"Plastic Green Head" sports more psychedelic blues. YAWN! Silly cover of the Monkees "Porpoise Song" but a decent cover the Beatles "Tomorrow Never Knows." (Phil Collins did a cover of this one as well.) The title has a dual reference to drugs and war. There is a large color picture of a marijuana field on the inside of this disc. I actually bought this as a new release and took it back to the store that day I bought it because the music wasn't what I had hoped for and the stupid drug references pissed me off. A few years later I bought this copy from Century Media for $2.00 to complete the collection. "Til the End of Time" is a bonus track on the U.S. edition! It's about time We get the bonus tracks on something. Trouble broke up soon after this release.
Trouble also recorded "The Last Judgement" for Metal Massacre IV.
On vinyl:

Trouble-Trouble (later called "Psalm 9") on white vinyl.