Jeff Beck
Jeff Beck is one of the British guitar heroes that inspired a generation of guitarists. He played with the Yardbirds for two years before becoming a solo artist in 1966 and also helped to launch the career of Rod Stewart. Unlike two other ex-Yardbirds guitarists, Jeff has not had the same tremedous commercial success.
Jeff Beck-Truth & Beck-ola (EMI) 1968/1969
1. "Shapes of Things" (3:21)
2. "Let Me Love You" (4:44)
3. "Morning Dew" (4:43)
4. "You Shook Me" (2:33)
5. "Ol' Man River" (4:01)
6. "Greensleeves" -instrumental (1:50)
7. "Rock My Plimsou"l - (4:14)
8. "Beck's Bolero" -instrumental (2:55)
9. "Blues de Luxe" (7:33)
10. "I Ain't Superstitious" (4:56)
11. "All Shook Up" (4:51)
12. "Spanish Boots" (3:35)
13. "Girl from Mill Valley" (3:47)
14. "Jailhouse Rock" (3:16)
15. "Plynth (Water Down the Drain)" (3:07)
16. "The Hangman's Knees" (4:48)
17. "Rice Pudding" -instrumental (7:22)
In the late 70's Warner re-released Truth & Beck-ola as a double record set. As I recall, most collector's guides complained about the poor sonics of the re-issue. This cd re-issue however boasts superior sonics. The cd re-issue was released in 1991 by EMI in Europe.
Truth: Some people claim this album was as much of a groundbreaking album for heavy metal as albums by Led Zeppelin, Cream and the Who. I have read that it had a huge effect on Aerosmith's Joe Perry, who to this day admits he is a big Jeff Beck fan. Vocalist Rod Stewart had a raspy voice that simply wailed and was laid on top of Beck's blistering lead guitar. Strange that Jeff on his first solo outing from the Yardbirds would open up his disc with the Yardbirds classic "Shape of Things." The whole album is quite heavy (for 1968) and has lots of upbeat cover songs including bone-crushing renditions of two Willie Dixon numbers ("You Shook Me" and "I Ain't Superstitious") There is also a spicy version of Jerome Kern's "Ol' Man River." If I am not mistaken, this album did very well on the American pop charts. Having said all that, I must admit that I use to HATE Rod Stewart's vocals for some reason. He grated on my nerves like fingernails scratching a chalkboard. I use to say that Rod Stewert ruined many good Jeff Beck albums. Seriously! I don't know why, but over the years I have grown to like his voice on these albums, although I am still not much of a fan of his solo material.
Beck-Ola: A great bluesy album from Jeff Beck and Rod Stewart. It's sort of funny in retrospect, but this album was considered "heavy" at one time. By todays standards this album would be rather mellow. Still the album is full of great jams. Two of the tracks were originally made famous by Elvis Presley ("Jailhouse Rock" & "All Shook Up"), however these Jeff Beck versions sound nothing like the originals, especially "All Shook Up." Bring on the jams.
Beck Bogart Appice (Epic) 1973
1. "Black Cat Moan" (3:50)
2. "Lady" (5:33)
3. "Oh To Love You" (4:06)
4. "Superstition" (4:19)
5. "Sweet Sweet Surrender" (4:02)
6. "Why Should I Care" (3:34)
7. "Lose Myself With You" (3:21)
8. "Livin' Alone" (4:12)
9. "I'm So Proud" (4:12)
Jeff Beck meets the rhythm section of Cactus (and evt. Vanilla Fudge) and puts out an album that is a gutsy, bluesy hard rock affair, albeit not of the same caliber as some of Beck's solo outings. However, there are plenty of scorching guitar licks and 1970's jams, a la early Led Zeppelin. I probably would not have ever placed this disc as a high priority in my collection but since I found it for a mere $2.99, I decided it was a good time to pick it up.
Jeff Beck-Blow by Blow (Epic) 1975
1. "You Know What I Mean (4:07)
2. "She's a Woman" (4:31)
3. "Constipated Duck" (2:48)
4. "Air Blower" (5:10)
5. "Scatterbrain (5:40)
6. "Cause We've Ended as Lovers" (5:43)
7. "Thelonius" (3:16)
8. "Freeway Jam" (4:59)
9. "Diamond Dust" (8:26)
A monumental instrumental album by one the most influential rock guitarists of all time. Jeff teamed with the Beatles' producer George Martin, and created a new subtext for rock & roll, mixing in smooth jazz elements along with subtle blues riffs. "She's a Woman" was written by John Lennon & Paul McCartney.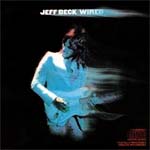 Jeff Beck-Wired (Epic) 1976

1.   "Led Boots" (4:03)
2.   "Come Dancing" (5:55)
3.   "Goodbye Pork Pie Hat" (5:30)
4.   "Head for Backstage Pass" (2:45)
5.   "Blue Wind" (5:54)
6.   "Sophie" (6:32)
7.   "Play with Me" (4:10)
8.   "Love Is Green" (2:32)
An instrumental disc that I have always loved. Jeff Beck's "Wired" is fusion of jazz and rock with smoking guitar leads. Very similar to "Blow by Blow," yet still possessing it's own character. It would be cool if these two were released together on one disc.