KING JAMES
After leaving Whitecross, guitarist Rex Carroll formed King James with Jimi Bennett. Robert Sweet and Tim Gaines (ex-Stryper) performed on the band's first album and on the video for "Hard Road to Go."

King James (Star Song) 1994
1. "Hard Road to Go" (5:45)
2. "Prisoner" (4:35)
3. "Tough the Fire" (4:39)
4. "Miracles" (4:36)
5. "Desperate" (5:09)
6. "Love is Gonna Find You" (5:00)
7. "Stand Up & Fight" (3:21)
8. "Choices" (5:03)
9. "Miracles (Acoustic Remix)" (4:35)
10. "Rev Rider" (6:07)
11. "Sunrise in Rio" innstrumental (4:06)
12. "Face to Face" (4:20)
13. "Face to Face (reprise)" (3:55)
Rex Carroll (ex-Whitecross) along with Robert Sweet and Tim Gaines (ex-Stryper) and vocalist Jimi Bennett, got together and put out this melodic metal album shortly after the breakup of Stryper. While the drumming is unmistakably Robert Sweet, the music sounds nothing like Stryper. Actually with the exception of the first song ("Hard Road to Go"), the best song on the disc, the rest of the album is surprisingly mellow, retaining more of an early 80's pop metal or AOR vibe. Part of this comes from Jimi's vocals that sound more like a classic rock/Glen Hughes style than an aggressive metal style. "Sunrise is Rio" is a very cool acoustic song. This disc went quickly out of print and is now hard as heck to find. Also have a tour poster from this album with all four members pictured on it. Saw a copy on display at the Stryper Expo, but it was not for sale.
In the Stryper book "Loud 'n Clear" Tim and Robert both admit that this was not anything they had planned to make permanent. Apparently Tim didn't even care for the music much. Both Tim and Robert appeared in the video for "Hard Road to Go."
Oh, the band name comes for Rex (meaning "King") Carroll and Jimi (or "James") Bennett, in case anyone cared. (-: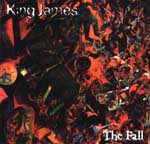 King James-The Fall (Viva) 1997
1. "The Fall" (4:04)
2. "Never Is Forever" (4:12)
3. "Frenzy" (3:50)
4. "Swing of the Street" (3:38)
5. "Spreading of Love" (3:57)
6. "Pale Beyond the Door" (6:34)
7. "The Calling" (3:58)
8. "A Vision" (3:20)
9. "Borrowed Time" (3:53)
10. "Heaven is for Everyone" (4:32)
Ah, now that's more like it. Heavy and crunchy, the way metal is suppose to be played. Even Jimi's vocals are heavier, with a bit more bite than on the self titled debut. Rex Carroll and Jimi Bennett are still on board, but Robert and Tim jumped ship a long time ago. This one had been released by a number of different record companies. My copy is from Sweden.