W H I T E C R O S S
Whitecross formed in Chicago in 1986, releasing their self-titled heavy metal EP. Regular line-up changes plagued the group virtually from its inception, but the duo of vocalist Scott Wenzel and guitarist Rex Carroll remained constant until 1993 when Rex Carroll split to form King James with two ex-Stryper members.
Whitecross-Hammer & Nail (Pure Metal)
1. "Living on the Edge" (5:11)
2. "When the Walls Tumble Down" (3:32)
3. "Hammer and the Nail" (1:35)
4. "Take It to the Limit" (4:09)
5. "Walk with Me" (4:44)
6. "Because of Jesus" (3:40)
7. "When the Clock Strikes" (4:34)
8. "Resist Him" (4:20)
9. "Living in a Lost World" (3:51)
10. "Top of the World" -instrumental (3:33)
Whitecross' "Hammer & Nail" is a classic heavy metal platter. Rex Carroll is a total shred-head. Scott Wenzel has a cool heavy metal voice, but I still think thy sound like Ratt.
Whitecross-Triumphant Return (Pure Metal)
1. "Attention Please" (3:55)
2. "Red Light" (4:32)
3. "Straight Thru the Heart" (3:57)
4. "Down" (4:01)
5. "Behold" (4:35)
6. "Shakedown" (4:16)
7. "Flashpoint" -instrumental (1:30)
8. "Simple Man" (4:21)
9. "Over the Top" (4:18)
10. "Heaven's Calling Tonight" (4:16)
Whitecross' third full length disc continues in the LA heavy metal tradition, sounding like a mixture of Ratt and Whitesnake. With each album Whitecross continues to improve in the song writing department. Of course as is the trend with Rex Carroll, there is the obligatory guitar solo "Flashpoint." "Simple Man" is an acoustic ballad with Rex Carroll taking over lead vocals. "Red Light" sounds like something off of Ratt's "Out of the Cellar." Overall, one of Whitecross' better albums.
Whitecross-In the Kingdom (Star Song)
1. "No Second Chances" (4:43)
2. "We Know What's Right" (6:05)
3. "In The Kingdom" (5:19)
4. "In His Hands" (3:36)
5. "Good Enough" (3:58)
6. "Love is Our Weapon" (4:40)
7. "The Eternal Fire" -instrumental (2:00)
8. "You Will Find It There" (6:00)
9. "If He Goes Before Me" (4:12)
10. "Can You Tell Me the Time" (4:29)
11. "Holy War" (5:54)
By this time Whitecross were no longer a heavy metal band, but were forced into a pop-metal direction by their label. It worked for them at the time as this album scored a Dove Award as well as several awards from readers polls in magazines like CCM and Heaven's Metal. Rex Carroll's signature guitar solos still penetrated every song, and like every past Whitecross album, there is the obligatory guitar solo ("The Eternal Fire"). Despite the direction Whitecross decided to take, their music still was well played and contained enough crunch to appease the older fans. There are loads of 'guest' musicians on this disc including former Outlaws bassist Rick Cua, who actually performs all the bass on this disc. Christian rappers D.O.C. lend a hand in the rap-rock anthem "Holy War." Also on hand to do some background vocals was Rez's Glenn Kaiser and Sacred Warrior's Rey Perra and Steve Watkins. My copy is autographed by Rex Carroll.
Whitecross-High Gear (Star Song)
1. "High Gear" (3:26)
2. "Dancin' In Heaven" (5:14)
3. "In America" (3:45)
4. "Overdrive" -instrumental (2:01)
5. "Without Your Love" (4:08)
6. "Coming Home" (4:08)
7. "My Love" (5:15)
8. "I'm Asking You Today" (4:16)
9. "Gonna Keep In" (4:02)
10. "I Shout" (4:20)
11. "Long Road to Walk" (6:23)
I sort of gave up on Whitecross at this point, although this is not the worst thing that Whitecross would do as that would be still to come. This album isn't bad, just not my favorite Whitecross album. The problem is that they have gotten so far away from their sound that it doesn't really sound like them, with the exception that Scott Wenzel's distinct voice and the mandatory Rex Carroll guitar solo ("Overdrive") which is still present. This would be the last album to feature Rex Carroll, who was not only the bands guitarist, but their co-founder and their main song writer, so this should have been the last Whitecross album. Unfortunately it wasn't. Rex went on to form King James as well as release a few solo albums.
On cassette:

Whitecross-The $6.98 EP-Love on the Line (Pure Metal)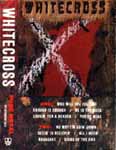 Whitecross (Pure Metal)
Whitecross-Unveiled (R.E.X.)