Superb American speed/thrash metal with blistering vocals by Nasty Ronnie, who was also a pro-wrestler.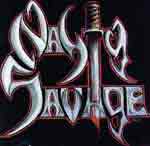 Nasty Savage-Nasty Savage (Metal Blade) 1985
1. "No Sympathy" (5:31)
2. "Gladiator" (4:23)
3. "Fear Beyond the Vision" (3:55)
4. "Metal Knights" (2:43)
5. "Garden of Temptation" -instrumental (1:03)
6. "Asmodeus" (5:14)
7. "Dungeon of Pleasure" (3:22)
8. "Morgue" (5:39)
9. "Instigator" (4:14)
10. "Psychopath" (3:30)
11. "End of Time" (4:22)
Take every heavy metal stereotype you can think of and blow it up 10x and you've got the debute of Nasty Savage. Nasty Savage blows away and out blasts Manowar on every philosophical tenant. We're talking some serious metal here. Nasty Ronnie's voice is higher than King Diamond's, the music is heavier than the heaviest Judas Priest, and the stage show would have destroyed any club they were in. A great debut from a great band, who never received the reconition they deserved. Bring on the denim & leather!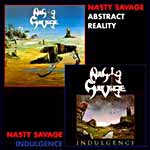 Nasty Savage-Indulgence/Abstract Reality (Metal Blade) 1987/1988
Indulgence
1. "Stabbed in the Back" (4:03)
2. "Divination" (3:50)
3. "XXX" (4:42)
4. "Indulgence" (3:55)
5. "Inferno" (4:13)
6. "Hypnotic Trance" (4:41)
7. "Incursion Dementia" (4:45)
8."Distorted Fanatic" (4:44)
9. "?" -instrumental (3:53)
Abstract Reality (EP)
10. "Abstract Reality" (4:43)
11. "Unchained Angel" (3:04)
12. "Eromantic Vertigo" (5:55)
13. "You Snooze, You Loose" (5:53)

Apply the above review to this album as well! "Indulgence" is a wall of sound that explodes with chunks of concrete falling all around. Nasty Ronnie sounding as nasty as ever. Another killer metal release that pushes the envelope of thrash metal. I had the original Restless cd version of "Indulgence" forever, but since I could never seem to find the "Abstract Reality" EP, I sold it on ebay for $9 and paid $11 to Metal Blade for this two-on-one disc re-issue. "Abstract Reality" is as good as, if not better than, "Indulgence."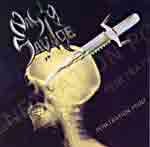 Nasty Savage-Penetration Point (Crook'd Records) 1989
1. "Welcome Wagon" (4:50)
2. "Irrational" (5:20)
3. "Ritual Submission" (4:20)
4. "Powerslam" (5:45)
5. "Sin Eater" (4:35)
6. "Penetration Point" (5:05)
7. "Puzzled" (3:45)
8. "Horizertical" (5:30)
9. "Family Circus" (5:41)
I was a big fan of this band in the 80's but never realized this album was released. I went to a record/cd show and found the original vinyl version for $1. Of course I had to begin a search for the cd as vinyl sucks! I soon discover it on Century Media's page. Ordered it immediately as I assume this limited edition cd will once again become scarce. (Which it now is) According to the official Nasty Savage page, only 2500 were pressed. Anyhow, the music is fast, more thrash oriented than anything Nasty Ronnie and Co. have done in the past. Noticably missing is the high, shrill falsetto vocals of Nasty Ronnie, who goes more for aggressive, roough thrash sound. This album was recorded at the infamous Morrisound Studios in Tampa, FL and was produced by Nasty Savage and Jim Morris (who also has produced for bands like Death and Iced Earth). I still have my vinyl copy with the original bad cover, that is actually as bad as this re-issue.
On vinyl:

Nasty Savage-Penetration Point (Rotton Records) original cover art