The STRYPER VINYL/CASSETTE/VIDEO Collection
..Despite the fact that there are hundreds of Christian metal bands ranging in style from death metal to pop metal, if you mention Christian metal, Stryper will inevidebly come to mind. I discovered Stryper when "Soldiers Under Command" came out in 1985. In the late 80's I struggled with how to juggle my taste in music and my faith in God. Stryper really helped me through a rough time in my life. I still have all my vinyl of these guys but have upgraded all of their albums to cd. Stryper are: Tim Gaines: bass, Oz Fox: guitars, Robert Sweet: drums, and Michael Sweet: vocals and guitars. To all those who hate these guys, or dislike Christian metal in general, stop reading my web page if you don't like it! At least Stryper was willing to stand up for something they believed in rather than riding some stupid Satanic trend. Stryper rules!!!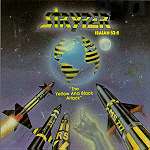 Stryper-The Yellow and Black Attack (Enigma) original mix/cover art
This album actually has another cover. The original pressing features the hand almost completely missing and the letters are not printed on Robert's rocket. I personally have never seen a copy of

Stryper-The Yellow and Black Attack (Enigma) blue vinyl edition w/ round cover
Stryper-Reason for the Season (Enigma) 12" single with "Winter Wonderland"

Stryper-Soldiers Under Command (Enigma) white vinyl edition & black vinyl edition
Stryper-Together As One (Enigma) 12" single w/ Soldiers Under Command
Stryper-Reach Out (Enigma) 12" single w/ Together As One & Interview
Stryper-To Hell With The Devil (Enigma) original angel cover art
Stryper-Honestly (Enigma) 12" w/ "Sing Along Song" and "Loving You" -live
Stryper-Honestly (Enigma) 45 rpm w/ "Sing Along Song"
Stryper-Free (Enigma) 12" special edition orange vinyl w/ "Calling On You" & "Rock that Makes Me Roll"
Stryper-Calling One You (Music For Nations) 12" w/ "Free" and "Surrender" -live
Cassettes

Stryper-I Believe In You (Enigma) single w/ "Together Forever" (live)

Stryper-Keep the Fire Burning (Enigma) single w/ "The World of You and I" and "You Know What to Do" (live)
Bootleg cassette tapes:
Stryper-Japan 1985

Stryper-San Diego, CA 3/14/86
| | | |
| --- | --- | --- |
| In the Beginning | Live in Japan | Expo 2000 |
Also:
Heavens Metal Video Magazine Vol.1 No.1: Includes Michael Sweet interview, Robert Sweet interview and videos for 'Two Time Woman' & 'Lady,' as well as a imprompto acoustic version of 'Lady' by Micheal Sweet.
Stryper-Burning Flame Live Japan 1989
Stryper-Expo 2001, Azusa CA (complete show)
Books:
Loud 'n Clear-An authorized biography by Dale Erickson & Jesse Sturdevant
(autographed by all four band members and both authors)



Stryper Main | Stryper CD Collection | Stryper Photos | Stryper Links | Main Index