Ken Tamplin
Ken Tamplin is cousin of Sammy Hagar and the former guitarist/vocalist of Shout. After Shout broke up, several bands persued Ken to be their vocalist including Motley Crue. Ken's vocal range is amazing and he is a great guitarist and songwriter to boot. He has also co-written songs with Gene Simmons for Kiss. In more recent years Ken's music has mellowed way beyond my tolerance, so I have lost interest in his music. Most of his original early 90's discs are very hard to find.
(Above photo from left to right: Ken Tamplin, Robert Gutierrez (Ultimatum), Eddie Baird (Conviction) and me at a cd signing in Albuquerque, NM)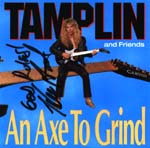 Tamplin & Friends-An Axe To Grind (Intense)
1. "Livin' for My Lord" (4:54)
2. "The Continuing Saga of Screwtape & Wormwood" -instrumental (:30)
3. "Goin' All the Way" (4:08)
4. "Never Give Up" (5:16)
5. "Music Box" -instrumental (:58)
6. "Not Alone" (3:51)
7. "Goin' Home" (5:27)
8. "Bouree in E Minor" -instrumental (:44)
9. "Straight Between the Eyes" (4:17)
10. "I Hear Cryin'" (4:49)
11. "Armageddon" -instrumental (1:03)
12. "Holdin' On/The Chase" (3:44)
13. "Take "Em Back" (3:22)
14. "Believin' Is The Hardest Part" (4:21)
15. "All Things You Are" -instrumental (7:18)

This was the first of many solo albums by Ken Tamplin. It's actually quite good and pretty heavy. (In comparison to other 80's melodic metal bands.) If Ken had more financial backing and a bigger label, I'm sure that "Living For My Lord" could have been a huge hit in '90 as it is a monster commercial metal tune. The whole album has some killer guitar playing on it, but what can you expect when you have some of the best studio musicians playing on your album. Lanny Cordola & Ken Mary (ex-House of Lords) both make guest appearances as does Joey Tafolla (Jag Panzer), Mark St. John (ex-KISS) and a bunch of other artists. Of course Lanny and Ken would later get together and form Magdallan. This disc was very rare and at one time I was offered $50 for it, but in 1998 it was reissued by KMG with "Soul Survivor" as double disc making the value go way down. (Darn, I should have sold it when I had the chance.) Of course the re-issue has none of the original artwork or liner notes and is missing a song. Also my original copy is autographed by Ken Tamplin, so I am sure it is still worth something.
On cassette tape:
Ken Tamplin-Soul Survivor (Intense)
Tamplin (Benson) -also autographed by Ken Tamplin