A popular club band in the New York/New Jersey area, T.T. Quick were known for their anthemic power metal laced with flashy guitar work that bordered speed metal at times. Their debut EP and the powerful "Metal Of Honor" were phenomenal and pointed towards bigger and greater things to come, but the band broke up in 1987 after a mildly successful club tour. The band reunited sporadically over the next decade and released a few albums including a live album from one of their reunion gigs. The band has also recently released a new studio disc called "Ink." I had the pleasure of seeing these guys in 1983 in a small club in Rochester, NY where they headlined with Helstar as their opening act. TT Quick's line-up has pretty much stayed the same over the years: Mark Tornillo (vocals), Dave DiPietro (guitars) Walt Fortune (bass) and Erik Ferro who played drums on everything but the first EP. Glenn Evans of Nuclear Assault fame performed on the EP. Dave DiPietro also played a spell with Nuclear Assault.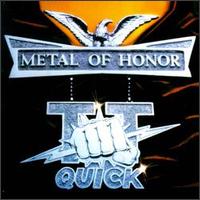 TT Quick-Metal of Honor (SPV) 1986
1. "Metal of Honor" (3:35)
2. "Front Burner" (3:25)
3. "Hard as a Rock" (3:59)
4. "Child of Sin" (3:01)
5. "Asleep at the Wheel" (2:59)
6. "Come Beat the Band" (2:47)
7. "Hell to Pay" (4:13)
8. "Queen of the Scene" (3:44)
9. "Glad All Over" (3:14)
10. "Siren Song" (4:06)
Excellent power metal from a band who just never could keep it together. Too bad because this album, along with their awesome 5 track debut are both fine examples of 80's power metal. The album sports strong, powerhouse vocals, lots of aggression and quality hook laden song writing. I've actually owned this album since it came out in cassette form. It took me a long time to finally secure a cd copy. Thanks again to the Metal Giant for the help finding this one. "Child of Sin" is a re-recorded song from the band's first EP. "Glad All Over" is a Dave Clarke Five cover. (I actually have an original vinyl copy of the Dave Clarke Five album as well)
T.T. Quick-Sloppy Seconds (Halycon) 1989
1. "Eye Of The Storm" (3:58)
2. "Deliver Me" (3:45)
3. "Save Some For Me" (3:23)
4. "Method Or Madness" (4:54)
5. "Rock You Over" (3:45)
6. "Isolation Booth" (3:28)
7. "White Spots" (3:29)
8. "Rule The World" (4:09)
Long interval between studio albums, so one would expect the sound to be different. Well, if you assumed this as I did, you too would be wrong. Actually the band continues in the straight forward heavy metal mode, although it seems to me they may have taken the aggression down a notch. Still the musicianship is excellent and the songs are full of hooks. Most memorable song is probably "Deliver Me" a song the explores the same old TV Preachers theme yet from the angle of someone truly searching for truth rather than from the angle most bands choose. Other faves would be "Isolation Booth" and "Rock You Over." Overall, this album does not beat "Metal of Honor" or the incredible first EP, but it's still a good heavy metal album nonetheless.
TT Quick-Thrown Together Live (Caroline) 1992
1. "Intro/Kickin' Ass & Talkin' Names" (3:45)
2. "Metal Man" (4:32)
3. "Eye of the Storm" (4:16)
4. "Asleep at the Wheel" (3:34)
5. "Deliver Me" (6:15)
6. "Front Burner" (3:35)
7. "Isolation Booth" (3:45)
8. "Child of Sin" (7:31)
9. "Beat the Band" (4:28)
10. "Metal of Honor" (4:31)
11. "Go for the Throat " (6:01)
A tenth anniversary live album recorded on October 31, 1990 in New Jersey, my stomping grounds from birth til I turned 18. I had actually forgotten that this band was from my neck of the woods until I heard the band introductions where Dave DiPietro is introduced as being from Trenton, NJ. Hey, that's where I lived too. Cool. (OK, like anyone cares!) I knew there was a reason that I was into these guys so early on. Anyhow, this live album is a great testimony to T.T. Quick's legacy. Too bad they didn't release more albums over the years as I really think they could have been contenders. Best thing about this disc is finally getting "Metal Man" and "Go for the Throat" on CD, both are spectacular cuts from their debut EP! Man, I wish they would re-release that thing! Also really dig the extended version of "Child of Sin."
T.T. Quick-Ink (Ocean) 2000
1. "Ink" (4:03)
2. "Subterrania" (3:52)
3. "Whippin' Time" (3:30)
4. "World on Display" (4:54)
5. "Run " (3:17)
6. "Age of Treachery" (4:35)
7. "Thick As Thieves" (4:18)
8. "Stone Dirt Cowboy" (5:00)
9. "Water Song" (5:50)
10. "Back to the Bottom" (4:15)
11. "Take A Lickin'" (3:10)
It's the year 2000 and TT Quick are still hanging tough. The nice thing about this band is that they never became a huge success, thus their music continues in the same straight forward heavy meal mode. Had they became "big" I am sure they would have been pressured into changing styles. "Ink" continues in the same style as "Sloppy Seconds" with mostly mid-paced heavy metal tunes and some slight blues influences thrown in to boot. Had to pick up this disc on eBay, as it seems distribution channels for this disc are not very good.