Uriah Heep were formed by vocalist David Byron and guitarist Mick Box in the late '60s along with keyboardist Ken Henlsey and together they helped define the British progressive heavy metal sound of the 70's, even inspiring much of the NWOBHM scene of the 80's. Hensley eventually moved on and recorded with Blackfoot. Uriah Heep has gone through so many members over the years that they put Spinal Tap to shame, having had over 30 different members throughout the years.
Uriah Heep-Salisbury (Mercury) 1970
1."High Priestess" (3:39)
2."The Park" (5:38)
3."Time to Live" (4:02)
4."Lady in Black" (4:43)
5."Simon the Bullet Freak" (3:25)
6."Salisbury" (16:22)
An early mixture of progressive and psychedelic rock. Can't say I was overly impressed upon hearing this disc for the first time. A few songs have a slight Black Sabbath heavy metal vibe, although whatever someone slipped into the band's drink seems to be more prominent than the heavy metal they would soon help to create.
Uriah Heep-Live (Mercury) 1973
1. "Introduction" (:50)
2. "Sunrise" (4:09)
3. "Sweet Lorraine" (5:01)
4. "Traveller in Time" (3:37)
5. "Easy Livin'" (2:59)
6. "July Morning" (11:55)
7. "Tears in My Eyes" (5:01)
8. "Gypsy " (14:07)
9. "Circle of Hands" (8:58)
10. "Look at Yourself" (7:29)
11. "The Magician's Birthday" (1:45)
12. "Love Machine" (3:27)
Hailed as a classic by many. Have even read a few reviews that put this on the same level as Deep Purple-Made in Japan. Unfortunately I never familiarized myself with Uriah Heep when they were popular so I wouldn't yet rank it up as one of my all time favorite live albums. Listening now however, I see that I missed out on a very cool band. As with most 70's bands, Uriah Heep tend to extend their songs out, adding and changing from the album version, which I always thought made for a better listen overall. I've heard it said that live albums are an end of an era for a band, and from the biographies I have read, this is true of Uriah Heep as well. Before this live album the band were cutting edge progressive rock mixed with early 70's heavy metal. After this album the quality of their music supposedly went downhill up until about the time of NWOBHM revival and their "Abomingo" release. Accordingly the band's popularity began to waver. Well, this all be true or not, they left us with one stellar live testament and a good size catalogue of classic studio releases. Must also mention that this album will make my top list of all time worst album covers.
Uriah Heep-Abominog (Castle) 1982
1. "Too Scared to Run" (3:49)
2. "Chasing Shadows" (4:39)
3. "On the Rebound" (3:14)
4. "Hot Night in a Cold Town" (4:03)
5. "Running All Night (with the Lion)" (4:28)
6. "That's the Way That it Is" (4:06)
7. "Prisoner" (4:33)
8. "Hot Persuasion" (3:48)
9. "Sell Your Soul" (5:25)
10. "Think it Over" (3:42)
I have had several e-mails suggesting that I should get more Uriah Heep and give them more of a chance. Well after borrowing a few of their earlier album I am now hooked and have added some of their cds to my want list. I found this used European import for a mere .99 cents. First of all, the cover is just so 'cute,' aint it? (yea right!) Well, with a cover as disturbing as this I was expecting music that was a bit darker. What I discovered was a decent NWOBHM disc. Perhaps, Uriah Heep are not traditionally considered a NWOBHM band, but certainly this cd sounds much like what was coming out of that movement in the early 80's. Melodic, yet aggressive, hook laden hard rock. The songs range from furious guitar heavy rockers to mid-tempo AOR rockers, like a slightly heavier Foreigner.. New vocalist, Peter Goalby sounds like a cross between Lou Gramm and Rick Medlocke. Two cool covers in Russ Ballard's 'On the Rebound' and D.B. Cooper's 'Prisoner.'
Uriah Heep-Raging Silence (Enigma) 1989
1. "Hold Your Head Up" (4:34)
2. "Blood Red Roses" (4:10)
3. "Voice on My TV" (4:19)
4. "Rich Kid" (4:49)
5. "Cry Freedom" (4:31)
6. "Bad Bad Man" (4:09)
7. "More Fool You" (3:34)
8. "When the War Is Over" (5:09)
9. "Lifeline" (4:52)
10. "Rough Justice" (4:24)
11. "Miracle Child" (4:11)
12. "Look at Yourself" (7:20)
13. "Too Scared to Run" -live (3:58)
14. "Corina" -live (4:46)
15. "Hold Your Head Up" (5:53)
16. "Blood Red Roses" (4:53)
A poppy, keyboard infested, hard rock album from Mick Box and a host of new members, including Lou Graham sound alike Bernie Shaw. Actually at times, I also heard a bit of Bruce Dickinson in Bernie's voice. The cd as a whole has a sound similar to a slightly heavier Foreigner. The single for this disc "Blood Red Roses" did little for the band, but is actually a decent song. Most likely it was a lack of marketing and push that made the single fail, as opposed to the song just not doing well on it's own merit. Interesting choice of a cover in Argent's "Hold You Head Up." As far as I know this is one of the few Uriah Heep discs that has not bee re-issued in recent years. This Enigma version was quite the find. (Thanks James)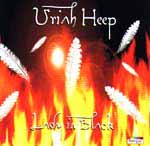 Uriah Heep-Lady in Black (Spectrum)
1. "Lady in Black" (4:40)
2. "Traveller in Time" (3:17)
3. "Easy Livin'" (2:35)
4. "Shady Lady" (4:48)
5. "Gypsy" (6:38)
6. "Lonely Nights" (4:11)
7. "Spider Woman" (2:27)
8. "Fallen Angel" (4:52)
9. "Sympathy" (4:49)
10. "Come Back to Me" (4:20)
11. "Carry On" (4:00)
12. "Love Stealer" (3:25)
13. "Think It Over" (3:30)
14. "Stay on Top" (3:38)
Never was much of a Uriah Heep fan. I guess it's that I just never familiarized myself with them. Anyhow, I found this compilation disc for $1 at a flea market and decided to give it a shot. This disc was actually my first introduction to the band. Not bad heavy rock and roll, some of it having a distinct Deep Purple vibe. Perhaps I will have check out more of their stuff in the future.