Joshua/M Pire
Joshua and M Pire are both melodic metal bands lead by guitar shredder Joshua Perahia.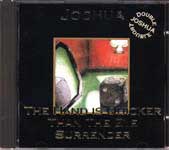 Joshua-Double Trouble: The Hand is Quicker than the Eye/Surrender (Long Island)
The Hand is Quicker than the Eye
1. "Falling Again" (4:19)
2. "November is Going Away" (4:57)
3. "Sweet Lilí Hurricane" (3:11)
4. "A Song For Lisa" (4:20)
5. "Let's Break Away" (4:47)
6. "Broken Dream" (3:01)
7. "Flying High" (4:17)
8. "Portrait of a Woman" (4:24)
Surrender
9. "Surrender Love" (4:29)
10. "Heart full of Soul" (4:32)
11. "Your Love is Gone" (4:17)
12. "Stay Alive (Go On Believing)" (4:43)
13. "Rockin' the World" (4:45)
14. "Back to Back" (3:37)
15. "Hold" (4:09)
16. "Show Me the Way" (4:25)
17. "Loveshock" (5:07)
18. "Rockin' the World (Reprise)" (:47)
This German import is KILLER. Joshua's discs are hard to come by but one day I was checking out stuff in a cd store and found four of these for $2 each. Man, the original price sticker was $25. I bought all four copies and made a killing on the other three with internet trades. Apparently Joshua discs are in high demand. Unfortunately I did not know that when I sold my Ocean Records version of "Surrender" and the German RCA version of "Intense Defense" for $15 each. I have seen "Intense Defense" go for no less than $100 on eBay, Ouch! Someone made off with a good deal from me. Oh well, you win some, you lose some.
In any case, Joshua is melodic metal lead by guitar shredder Joshua Perahia, who is the only constant member. Joshua has three excellent lead singers on this disc: Robin Klye (ex-Die Happy, Red Sea), Stephan Fontaine, and Jeff Fenholt, who sang with Black Sabbath for a short spell before becoming a TBN TV preacher. This disc is a nice package as it contains two albums ("The Hand is Quicker than the Eye" & "Surrender") on one gold disc, an extensive booklet with all the original liner notes, photos, and lyrics, and a poster. The entire package is wrapped up in a jewel case that has been gold foil embossed and a nice slipcase. The disc is also a numbered limited edition. Mine is 1872 of 2000. "Heart Full of Soul" is a Yardbirds cover.
Well, I finally had the opportunity to see Joshua perform at the 2001 Stryper Expo. Being that I had passes I met Joshua Perahia early before the mob scene and had him sign my cd. He and his band were so blown away that I had this cd. Apparently even they don't have copies and only have it listed on their web site. Anyhow, both these albums have been re-released in the U.S. so they are much easier to get now, but this particular gold disc version is still very rare.
M Pire-Chapter One (Long Island)
1. "Concrete Jungle" (4:29)
2. "You Want It All" (5:10)
3. "Steady Weapon" (5:31)
4. "One Night Is Not Enough" (4:23)
5. "Long Way to Heaven" (5:24)
6. "Dark Days" (4:47)
7. "It Must Be Love" (4:51)
8. "Tears of Joy" (5:47)
9. "Bad Man" (4:49)
10. "Walk Into the Light" (3:52)
11. "Devil's River" (5:32)
12. "Right on Target" (4:39)
For all intensive purposes, this is Joshua with a new name. Why Joshua Perahia decided to change the name of the band I do not know. In any case, the music follows suite in similar fashion-80's melodic metal with tons of shredding solos and smooth, clean vocals. Available as a German or Japanese import only.
On May 20 I had the extreme pleasure of seeing Joshua perform at the Stryper Expo in Azusa, California. At the band's merchandise table they had copies of all Joshua's cd's (except the coveted "Intense Defense.") In anycase, they had the "Chapter One" album as well, but the name of the band was changed to JOSHUA Perahia. The Joshua was in large letters with his last name in smaller letters. This was true of all three of the discs that they had available and the new disc as well. On day two of the festival, the band had at their table 75 pre-release copies of their new album but I didn't buy one as I had already spent more money than I wanted and still needed gas to get home. Darn, and it was a numbered limited edition picture disc. Anyhow, I had the band autograph my M Pire disc and my Double Trouble disc. The band seemed quite surprised that I had these. Apparently most of the band members had not even seen a copy of the "Double Trouble" disc.
Joshua-Official Joshua Perahia Bootleg CD (M&K Sound) 2001
1. "Let Your Love Shine Down" (5:56)
2. "Something to Say" (6:17)
3. "First and Last" (5:02)
4. "Remembering You" (6:19)
5. "Precious Love" (5:37)
6. "I Can Feel Again" (4:31)
This is an extremely limited edition picture disk; only 100 were ever made and they were only sold on the second day of the two day Stryper Expo in May 2001. Unfortunately I had run short on funds on that day and did not have the money to purchase this cd, but lucky for me, I have generous friends. My friend Jeff bought a copy and surprised me with it. It's even autographed by the entire band. Thanks Jeff. The cd contains pre-release versions of songs from the new Joshua album "Something to Say", which as of writing and posting this review, still has not been released. This new material is NOT heavy metal, but rather bluesy rock 'n roll with some tendencies towards southern rock as well. Of course the guitar solos are smokin' and the songwriting is superior, as one would expect from such a veteran as Joshua Perahia. The picture above is not my actual cd, although it looks almost identical. This scan was actually obtained from eBay a few days after the expo. Obviously someone was trying to make a buck on a rarity. I should also mention that the picture is not printed directly on the disc, but is actually printed on an adhesive stock. These discs came directly from the band's studio and were not mass produced. "Remembering You" is a remake of a song from the coveted "Intense Defense" album.
One other thing I though I would mention about this disc. Isn't it an oxymoron to say this is an "official bootleg"?