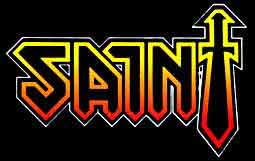 Early 80's Christian metal. These guys sounded like a mixure of Judas Priest and Iron Maiden. After their first release "Warriors of the Son" they released two cds before reforming in 1999 and putting out "The Perfect Life." "Warriors of the Son" was not released on cd, although part of it was released on a two disc re-issue of "Time's End" and "Too Late for Living." These two albums were fetching $70+ on ebay.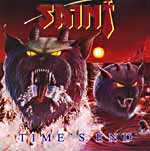 Saint-Times End (Pure Metal) 1986
1.   "In the Night"   (3:25)
2.   "Island Prisoner" (4:18)
3.   "Space Cruiser"  (5:15)
4.   "Through You" (4:12)
5.   "Time's End" (4:42)
6.   "Primed and Ready" (3:47)
7.   "Destroyers" (3:17)
8.   "Phantom of the Galaxy" (2:34)
9.   "Steel Killer" (5:43)
This was the first Saint album I bought back in 1986. "Times End" is a great true metal album in the tradition of Judas Priest. Josh Kramer has a great voice that echoes Rob Halford.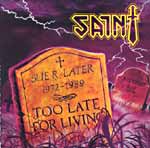 Saint-Too Late For Living (Pure Metal) 1988
1. "Too Late for Living" (3:57)
2. "Star Pilot" (3:29)
3. "Accuser" (2:00)
4. "The Rock" (2:50)
5. "On The Street" (3:38)
6. "Returning" (4:48)
7. "The Path" (3:48)
8. "Through the Sky" (3:49)
9. "The War is Over" (3:16)
Saint continue in the Judas Priest/Iron Maiden mode, but add a bit more melody to this, their last album. This is a classic album and one that has fequented my cd player over the years. One of the best Christian heavy metal albums to come out of the 80's.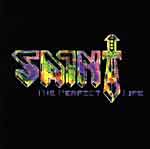 Saint-The Perfect Life (Armor) 1999
1. "The Runner" (4:33)
2. "Raise Your Hands" (3:39)
3. "Show His Love" (5:02)
4. "To Live Forever" (4:17)
5. "The Perfect Life" (3:55)
6. "Deceived" (6:00)
1999 and Saint decides, after a decade apart, to reform. Sometimes I wish these classic bands would just stay apart because when they reform, half the time, they suck. "The Perfect Life" is a perfect example. Boring garage rock that doesn't even come close to the classic heavy metal Saint gave us in the mid-80's. "The Runner" is a passable song, touching on some of their past greateness, but even it is not up to the standards of "Times End." Biggest dissapointment is in the vocals which are not by former vocalist Josh Kramer but by new guy Tim Lambertson, who just doesn't have the range, the aggression, or the charisma.
On tape:
Saint-Warriors of the Sun (original cassette release)