B. A. D. L. A. N. D. S
Badlands was formed by ex-Ozzy guitarist Jake E. Lee along with drummer Eric Singer (Alice Cooper/Black Sabbath, bassist Greg Chaisson, and extraordinary vocalist Ray Gillen. Eric Singer went on to join Paul Stanley on his solo tour and later became a member ofKiss. Bassist Greg Chaisson went on to play with Die Happy. Ray Gillen also sang for Black Sabbath for a short time and also joined up with ex-Thin Lizzy guitarist John Sykes in Blue Murder. He also recorded with his other band Sun Red Sun before his tragic death. Gillen was diagnosed with HIV and on December 3, 1993, he died at his New Jersey home due to AIDS-related complications while suffering pneumonia. He was only 32 years old
Badlands (Atlantic) 1989
1. "High Wire" (3:44)
2. "Dreams in the Park" (3:29)
3. "Jade's Song" (1:20)
4. "Winter's Call" (5:35)
5. "Dancing on the Edge" (3:27)
6. "Streets Cry Freedom" (6:09)
7. "Hard Driver" (5:49)
8. "Rumblin' Train" (5:45)
9. "Devil's Stomp" (4:54)
10. "Seasons" (6:19)
11. "Ball & Chain" (4:12)
Jake E. Lee's "Badlands" debut is a high-spirited, surprisingly non-commercial affair. For some reason I expected something akin to Bon Jovi. OK, "Dreams in the Dark" and "Winter's Call" were minor MTV successes but otherwise, this is just a high spirited blues-metal fest drawing some obvious influences from Deep Purple and Led Zeppelin. Ray Gillan has an outstanding voice that parallels David Coverdale. I can't see any fan of hard driving rock and roll not liking this. This disc was produced by Paul O'Neil, who has been closely associate with more recent Savatage offerings. Picked up this disc for $3.99 used in mint condition.
Badlands rhythms section (Greg Chaisson-bass & Eric Singer-drums) come together to record this solo blues record for Greg.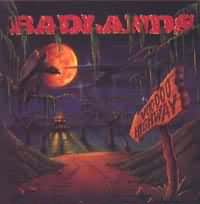 Badlands-Voodoo Highway (Atlantic) 1991
1. "The Last Time" (3:41)
2. "Show Me the Way" (4:12)
3. "Shine One" (4:23)
4. "Whiskey Dust" (4:18)
5. "Joe's Blues" -instrumental (:57)
6. "Soul Stealer" (2:56)
7. "3 Day Funk" (3:51)
8. "Silver Horses" (4:40)
9. "Love Don't Mean A Thing" (4:01)
10. "Voodoo Highway" (2:22)
11. "Fire & Rain" (3:40)
12. "Heaven's Train" (3:57)
13. "In A Dream" (2:13)
This album is simply fantastic! While the music is unmistakably heavy metal, there is also an blatant blues vibe as well. This album is pure brilliance! While the whole album is spectacular, the standout tracks are: Soul Stealer," "The Last Time" and and the James Taylor cover "Fire & Rain." Ray Gillen's vocals are nothing short of heavenly. The guys had a serious set of pipes and the lungs to power 'em.
Badlands-Dusk (Z Records) 1999
1. "Healer" (4:45)
2. "Sun Red Sun" (5:29)
3. "Tribal Moon" (3:55)
4. "The River" (4:41)
5. "Walking Attitude" (2:55)
6. "The Fire Lasts Forever" (4:04)
7. "Dog" (3:27)
8. "Fat Cat" (4:33)
9. "Lord Knows" (4:55)
10. "Ride the Jack" (4:17)
Dusk was recorded shortly before Ray Gillen's untimely death in 1992. According to Jake E. Lee's website, the original title for this album was to be "Demo" and was later (wisely) renamed "Dusk". The original release of Dusk was to be December 1, 1998 but due to the Ray's passing it was pushed back to January 20, 1999. Apparently this was because the band was respecting the wishes of the Ray Gillen's family who, "...didn't want it to be any kind of 'tribute' or 'dedication." According to Jake, "They said it was a Badlands release, and Ray was a part of Badlands, and not to treat it any differently. I agreed and the record company, eventually did, too." As far as I know this disc is still not available in the U.S. but was only released in Europe and Japan. The music on this disc is prime Badlands mixing bluesy hard rock with Ray's soulful vocals, although the sound is a tad more modern than their past two cds. This could be more attributed to the production than the actual songwriting. Regardless, it's just good quality rock n roll. "The River" was previously released by bassist Greg Chaisson on his 1994 solo album, 'It's About Time' (with Rob Lamothe of The Riverdogs on lead vocals). Sun Red Sun was the name of another band that Ray was in in between Badlands releases.